Genomics and proteomics search results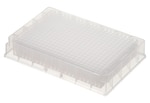 Simplify compound library storage with the Thermo Scientific™ Nunc™ DeepWell™ 384-Well Plate. This deepwell polypropylene plate provides larger working volumes and minimizes wicking through a special rounded square well design.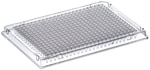 Whatever your standard or routine application or assay, you can be sure of excellent solvent resistance and low background noise with Thermo Scientific™ WebSeal 384-Well Non-Coated Plastic Microplates. Made of high-quality, GC-tested polypropylene.