* We found multiple results based on your entry. Please select the item you are looking for.
Genomics and proteomics search results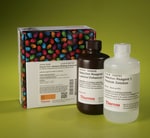 Thermo Scientific Pierce ECL Western Blotting Substrate is a value-priced, entry-level peroxidase substrate for enhanced chemiluminescence (ECL) that directly replaces costlier products without the need to re-optimize conditions.

Features of ECL Western Blotting Substrate:

• ECL substrate—an enhanced chemiluminescent substrate for detection of horseradish peroxidase (HRP) activity from antibodies and other Western blot probes
• About half the cost of other ECL Substrates—low overhead and a commitment to customer value enables Thermo Fisher Scientific to make this product available to you at a significantly lower price than other companies (these claims are based on the 2010 U.S. list prices)
• No optimization required—switching to Pierce ECL substrate from other entry-level ECL substrates does not require optimization or protocol changes
• A name you can can rely on—count on the strong quality assurance, technical support and reputation behind Thermo Scientific Pierce Protein Research Products

Pierce ECL Western Blotting Substrate provides reliability and performance equivalent to other standard enhanced chemilumescent (ECL) substrates for detection of horseradish peroxidase (HRP) enzyme activity. Yet, Pierce ECL Substrate costs much less. Because the luminol and peroxide reagent-formulations are identical to other commercially available substrate products, one can switch to Pierce ECL without needing to optimize probing conditions or incubation protocols. Simply switch to Pierce ECL and save a bundle.

Pierce ECL Western Blotting Substrate provides performance identical to the original Amersham ECL Western Blotting Detection Reagent from GE Healthcare, but it costs much less. If you are currently using a needlessly expensive entry-level ECL substrate, you can switch to Pierce ECL Western Blotting Substrate without any optimization. Because these products are identical, they perform the same.

Ensure leak-free, void-free column connections and optimize LC performance with universal, self-adjusting Thermo Scientific™ SLIPFREE™ HPLC Column Connectors.