Genomics and proteomics search results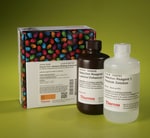 Thermo Scientific Pierce ECL Western Blotting Substrate is a value-priced, entry-level horseradish peroxidase (HRP) substrate for enhanced chemiluminescence (ECL) that directly replaces costlier products without the need to re-optimize conditions.

Ensure excellent column connections and optimal HPLC performance with Thermo Scientific™ SLIPFREE™ HPLC Column Single Connectors. Compatible with all column end-fittings, these universal, self-adjusting connectors provide leak- and void-free column connections.