* We found multiple results based on your entry. Please select the item you are looking for.
Genomics and proteomics search results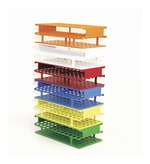 Securely hold a full load of test tubes or centrifuge tubes for 13, 16, 20, 25 and 30mm diameter sizes with Thermo Scientific™ Nalgene™ Unwire™ Test Tube Racks.