The Affymetrix catalog number you are searching for has been discontinued. For your convenience, please visit these pages for comparable or related products. You may also contact techsupport@thermofisher.com for assistance in choosing a product.
Genomics and proteomics search results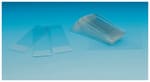 Achieve similar cell attachment and growth as standard cell culture flasks and dishes with the Thermo Scientific™ Nunc™ Plastic Microscope Slides. Available in either polystyrene or Permanox plastics.