Attention: iBright™ FL1000 Imaging System (Catalog number:A32752) has been discontinued. The alternate product is Catalog number: A44241.
Please contact Technical Support with any questions.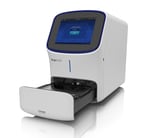 Capture images and analyze data from western blots and gels efficiently and easily with the Invitrogen iBright FL1500 Imaging System. This high-performance instrument enhances the imaging experience through powerful hardware, advanced automated technologies, and an interface that is easy to use for...