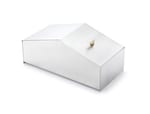 Complement your Thermo Scientific™ Precision™ water bath with a gassing hood, gable cover, designed to fit large flasks, or concentric ring cover for steaming. Available in a variety of sizes.

Conduct routine pH measurements with the Thermo Scientific™ Orion™ Economy Series pH Combination Electrode, a routine wick junction, gel-filled electrode. Its unbreakable epoxy body extends beyond the pH sensing glass bulb for rugged conditions.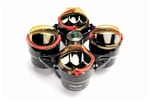 Increase lab productivity with the Thermo Scientific™ TX-750 4 × 750mL Swinging Bucket Rotor, delivering maximum flexibility at 4700rpm.