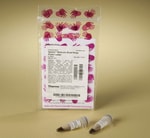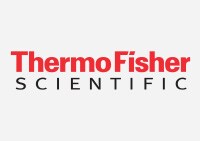 Thermo Scientific Spectra Multicolor High Range Protein Ladder is a mixture of eight (8) blue-, green-and orange-stained proteins (40 to 300kDa) for use as size standards for high-MW proteins in gel electrophoresis and Western blotting.
Features of Spectra Multicolor High Range Protein Ladder:
•
Size range
—eight proteins spanning 40 to 300kDa
•
Multicolor
—three different colors for unambiguous band-size assignment
•
Ready-to-use
—supplied in a loading buffer for direct loading on gels; no need to boil
•
Sharp bands
—color-coded bands of similar intensity for easy visualization
•
Quality tested—
each lot evaluated by SDS-PAGE and Western blotting
•
Membrane-compatible
—colored bands transfer to membranes for Western blotting
Includes:
• Dye-stained proteins in 62.5 mM Tris-H3PO4 (pH 7.5 at 25°C), 1 mM EDTA, 2% SDS, 10 mM DTT, 1 mM NaN3 and 33% glycerol.
Applications:
• Monitoring of protein migration during SDS-PAGE
• Verifying Western transfer efficiency
• Approximate sizing of proteins on SDS-polyacrylamide gels and Western blots
• Locating a protein of interest for excision from an unstained preparative gel
This prestained protein MW marker is designed for monitoring the progress of SDS-polyacrylamide gel electrophoresis, for assessing transfer efficiency onto PVDF, nylon and nitrocellulose membranes, and for estimating the approximate size of separated proteins that have been made visible with gel stains or Western blot detection reagents. Three different chromophores (blue, orange, green) are bound to the different component proteins, producing a brightly colored ladder with an easy-to-remember pattern. The Spectra Multicolor High Range Protein Ladder is ready to use: no heating, further dilution or addition of a reducing agent is required.
Please see
Cat. No. 26625
for more information about this product.