Molecular Biology Webinars
Watch molecular biology webinars on reverse transcription, PCR, cloning and more
In our webinar series, we cover molecular biology topics such as reverse transcription, PCR and cloning for new and experienced researchers alike. These learning materials are designed for a deeper understanding of the underlying techniques and of our latest innovative tools for your experiments. Please register for our upcoming webinars or listen to previous presentations for free.
Date
Topics
Details
March 29, 2017
Real-world applications using multiple cloning technologies

Learn about real-world applications utilizing different combinations of cloning technologies—ranging from restriction enzymes to complete gene synthesis.

Register now

October 20, 2016
Precision and power for the highest success in PCR

Learn about the underlying process of high-fidelity PCR, tips for obtaining the lowest error rates in your PCR experiments, and how you can overcome the challenges of amplifying even your most complex DNA templates.

View now

September 29, 2016
Breaking through RT-qPCR boundaries in gene expression analysis

Review important considerations for RNA isolation, tools for efficient cDNA preparation, sources of poor RT-qPCR results, and tips for overcoming challenges, for highest success in gene expression analysis.

View now

April 28, 2016
The power of PCR cloning

Learn about common PCR cloning methods, including TA, blunt-end and multi-fragment gene assembly, and the importance of high-fidelity PCR enzymes for cloning.

View now

March 16, 2016
Cloning technologies: Complete solutions from Thermo Fisher Scientific

Find out about various cloning technologies supported by Thermo Fisher Scientific, including traditional cloning and next-generation gene assembly, and how to choose appropriate methods to advance your research.


View now

June 16, 2015
Overcoming RT-qPCR common mistakes and challenges

Review the most common sources of variation and errors in the RT-qPCR workflow and how to avoid them.


View now

---
Other related webinars
Synthetic biology webinars


Nucleic acid isolation webinars
Real-time PCR webinars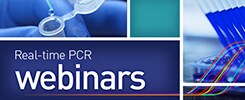 For Research Use Only. Not for use in diagnostic procedures.