---
By re-engaging the body's immune system to treat cancer, you're not only revolutionizing medicine, you're saving lives. But to make a difference, you have to make it to clinical trials, and that takes results — results that are repeatable, reliable, and fast. That's a challenge you face every day. With Thermo Fisher Scientific, not only are you assured proven, easy-to-use cell therapy solutions, you also get the expert guidance that lets you use them with confidence.
Products enhanced with compliance, support, and field services
Get up and running faster, stay compliant, support regulatory audits, and stay on schedule as you translate your cell therapy from discovery to clinical research and commercial manufacturing.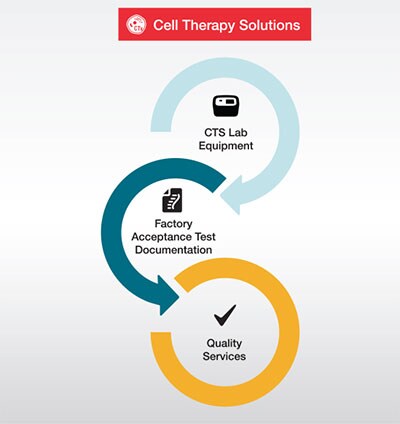 Thermo Scientific integrated solutions support your GMP and clean room needs for cell and gene therapy — from CO2 incubators and centrifuges to cold storage, biological safety cabinets, and beyond — with innovations supported by high-quality materials, factory acceptance certification, and on-site compliance support.
---
Lab Equipment for Cell and Gene Therapy

Next-generation cleanroom confidence
Thermo Scientific Heracell Vios CR and Steri-Cycle CR CO2 incubators – CTS series are the first third-party certified cleanroom compatible CO2 incubators on the market, suitable for use in ISO Class 5 and GMP Grade A/B environments. The incubators provide optimal cell growth conditions, enhanced cleaning compatibility and an active particle control system.
Powerful at every turn
Thermo Scientific General Purpose Pro Centrifuges - CTS Series are designed to meet the needs of today's rapid-fire discoveries, with updates to help you perform research more quickly, consistently and with powerful reliability. The CTS Series of our 4L range (benchtop and floor model) satisfies not only the need for an essential separation equipment, but also the necessary compliance documentation and validation services.
Smarter protection that never takes a day off
Thermo Scientific Herasafe 2030i Biological Safety Cabinet - CTS Series is designed to maximize sample protection and user safety, with an emphasis on containment, comfort and convenience, all day, every day. The CTS Series combines a comprehensive documentation package saving valuable time and giving piece of mind.

Freeze samples with repeatable results
For customers in cell and gene therapy, vaccine production, and biobanking, the Thermo Scientific CryoMed Controlled-Rate Freezer (CRF) provides precise, repeatable freezing results that protect samples from intracellular freezing. The CryoMed CRF features enhanced data traceability via a touch screen user interface and offers customizable freezing profiles while supporting 21 CFR part 11 and GMP needs.
Designed to freeze samples with repeatable results
CryoMed Controlled-Rate Freezers includes a patented LN2 delivery system. LN2 precisely and powerfully moves gene and cell therapy samples and treatments through the phase change process that occurs during the preparation of samples for ultra-cold and cryopreservation storage.
Cell Therapy Systems Series (CTS Series) laboratory equipment provides dedicated features for Cell Therapy purposes and is available with a Factory Acceptance Test (FAT) folder including certifications and documentation as well as compliance services.
| | | |
| --- | --- | --- |
| Product & features | Documentation & certification | Compliance services |
---
Watch the videos and learn more
Video: A Cell Therapy Journey from Vein to Vein
---
Visit our blogs for indepth information
High-Performance Incubation with Certified Cleanroom Compatibility
---
View our webinars and learn more
Transitioning Laboratory Equipment from Research and Development Work to GMP Compliance
The Role of Centrifugation in Suspension Cell Culturing in the Cell Therapy Workflow

Managing Data in Laboratory Equipment: Connectivity Solutions, Regulatory Implications, and Quality Control
A Partnership in Data Traceability:the CryoMed controlled-rate freezer, and lab/production processes
Style Sheet for Global Design System