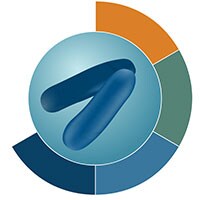 MicroSEQ™ Microbial Identification System—easy-to-use platform for bacterial and fungal sequence analysis
Used in top pharmaceutical companies worldwide, the Applied Biosystems™ MicroSEQ™ Rapid Microbial Identification System is ideal for environmental monitoring, contamination investigation, root cause analysis, raw materials testing, and microbial identification in small-molecule and biopharmaceutical manufacturing, and service laboratories. It can also be used in public health laboratories, cosmetics and personal care products manufacturing, food testing laboratories, and academic and research centers. The MicroSEQ System combines the benefits of PCR and DNA sequencing technologies to enable highly accurate results.
Comparative gene sequence analysis of ribosomal DNA (rDNA) has been shown to have the highest accuracy of microbial identification system technologies and has been considered the gold standard for microbial identification for over a decade. Built on years of expertise, the MicroSEQ ID system enables superior accuracy and time-to-results for bacterial and fungal identification in one easy-to-use platform.
Accurate genotypic bacterial identification based on the 16S rRNA gene
Accurate genotypic fungal identification based on the D2 region of the 26S rRNA gene
Easy workflow, high throughput, accurate results typically in less than 5 hours
Fully validated and implemented in as few as 4 months
Enables 21 CFR Part 11 compliance
Microbial Identification: Bacterial and Fungal ID using MicroSEQ System
Have questions about Gibco™ media, POROS chromatography resins, Applied Biosystems™ SEQ rapid contaminant tests, or our cell therapy products? Click below to access product brochures, training videos, mobile apps, and more.
For Research Use Only. Not for use in diagnostic procedures.