Century of Amazing Science
Pushing the boundaries of science in critical disciplines

Genetic Analysis & Sequencing

Cell Biology & Bioproduction

Protein Biology
Cell Engineering
Bioinformatics
Genetic Analysis & Sequencing

A broad portfolio of advanced genomic technologies provides an integrated solution that combines genetic analysis instruments with reagents, consumables, software, and world-class service and support.

Cell Biology & Bioproduction

This comprehensive cell biology platform includes technologies, products, and instruments to study the structure and function of cell lines, primary cells, and stem cells. We also offer a range of products and services for the production of biologics-based therapeutics and vaccines.

Protein Biology

From protein expression and purification to detection and analysis, we provide research solutions to streamline your processes and improve productivity. The broad suite of tools that we offer for proteomics supports virtually any investigation in the complex arena of protein structure and function research.

Cell Engineering

We provide tools to enable genotype engineering so that researchers may study how the genome influences phenotype. Our portfolio is built on 20 years of industry-leading innovation, balancing precision and costs that can grow with your research needs.

Bioinformatics

Life Technologies offers a suite of software tools to assist with your laboratory's goals. Included in this portfolio are Vector NTI® software, Compendia Bioscience™ products, fragment analysis software, Sanger sequencing data analysis software, and Ion Reporter™ software.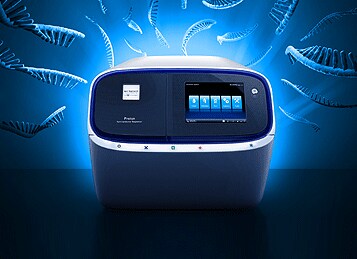 Ion AmpliSeq™ Transcriptome Solution
The Ion AmpliSeq™ Transcriptome Human Gene Expression Kit, together with the Ion Proton™ System, enables fast and affordable gene expression analysis from limited or degraded samples such as FFPE tissues. With simultaneous amplification of more than 20,000 RefSeq genes in a single tube starting with as little as 10 ng of total RNA, the Ion AmpliSeq™ Transcriptome Human Gene Expression Kit helps transform translational and cancer research in tumor profiling and biomarker discovery.
Survey precious FFPE samples with just 10 ng RNA
Fast and affordable gene expression profiling in under 2 days
Better research performance than arrays
Leverage existing microarray or other NGS analysis pipelines
| | | |
| --- | --- | --- |
| Related Ion® products | | Related Ion® resources |
Let us put these valuable resources directly into your hands
Get the most out of the Century of Amazing Science
Your account
Sign in to see specific pricing, create a quote, order products, track shipments, save your products lists and much more.

Promotions
Save money on products using special promotional discounts

Service and support
Access documentation and training or contact an application specialist for more personal assistance.

Events
Find a Century of Amazing Science event near you and register to attend.
Download all 12 "Inspired By Science" posters


You view the world through science-colored glasses, unafraid to confront the intangible. You accept radical challenges, approaching each with equal parts logic and wonderment. As one, you are a catalyst. Alongside many, you are the future. You are a scientist, in the Century of Amazing Science. Go forth and inspire!