Meet the requirements of a Class II, Type B2 BSC under NSF/ANSI 49, a global standard for design, construction and performance of Class II biosafety cabinets (BSCs).
Class II, Type B2 BSCs are often selected for applications for work with hazardous drugs, CMR (carcinogenic, mutagenic, reprotoxic) substances or other specialized procedures, particularly in North America.
NSF/ANSI 49 is the generally required standard for BSCs in North America as well as being frequently required and recommended in Latin America, the Asia Pacific, the Middle East and Africa.
Select the class that suits your needs
Description
Outstanding protection, comfort and performance for demanding applications.
Protection
→ SmartFlow
→ UV with saved cycle times
Ergonomics
→ Counterbalanced manual window
→ LCD information display located easily visible within sample chamber
→ Touch pad controls within reach while seated
Design
→ Stainless steel interior (Type 304)
→ Indented surface
Efficiency
→ DC intelligent supply motor
→ LED lights

---
1500 B2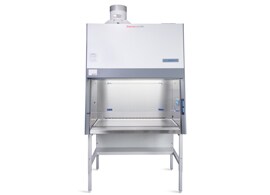 The Thermo Scientific 1500 Series B2 BSC meets NSF/ANSI 49 for a Class II, Type B2 biosafety cabinet. These energy efficient cabinets require direct connection to external exhaust and provide personal and product protection from biological hazards and contamination as well as protection from volatile toxic chemicals used in the cabinet.
These cabinets are differentiated by:
SmartFlow compensation to maintain downflow allowing effective use of downflow prefilter for extended HEPA filter life.
Counter balanced window for easy operation.
8 inch (20cm) front opening with Type 304 stainless steel interior.
Key features to help you achieve your next discovery
Based on over 40 years of engineering and design breakthroughs, our expertise is represented in key features that span our portfolio. Together these enhancements provide valuable contamination control technologies, and advanced design for highly critical applications, plus simplicity which allows you to spend more time pursuing your goals.