The best just got better
For decades, Finnpipette pipetting systems have delivered unmatched productivity and ergonomics across thousands of labs and applications worldwide.
One family of pipettes is all you need to comfortably meet any application challenge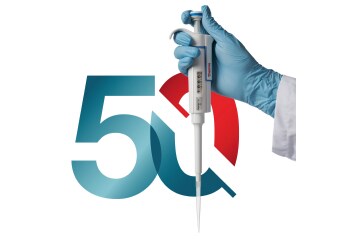 Celebrate 50 years of finnpipettes in the lab with us


---
Quicklinks:
Available Finnpipette Systems
Finnpipette F1 Manual Pipettes
Exceptional performance feels more comfortable than ever
Finnpipette F2 Manual Pipettes
Fully autoclavable with rugged construction
Finnpipette Novus Electronic Pipettes
Easy-to use, intuitive programming with index-finger operation
The need for ergonomic pipettes and pipette tips is quickly becoming a high priority for labs and scientists. Learn more about improved ergonomics based on pipette tip selection.
Exceptional performance with comfort, redefined
Thanks to your valuable feedback each suggestion turned into a key feature that makes your life in the lab safer.
Introducing Finnpipette F1 pipettes:
You said to "lighten up a little". We did that – and more.
Volume adjustment is now virtually effortless and enjoyably silent, also enabling one-handed volume changes. Plus, the volume lock offers added security to prevent accidental volume drifting during pipetting.
You told us to "get a grip"". And we totally agreed.
Small tweaks can have a huge impact when delivering the right touch. Finnpipette F1 pipettes now come with a textured adjustment knob that gives you a firmer feel of confidence when setting volumes. We even offer handle grip strips for your pipette, providing a more secure and comfortable grip. And a new, wider tip ejector gives your thumb the room and respect it deserves.
And you're clear that "a lightweight, comfortable pipette is important" in your work. We listened, and delivered.
Finnpipette F1 pipettes feature a lightweight design, now with lowered pipetting forces that reduce Repetitive Stress Syndrome (RSI) without compromising results. That means maximum comfort with confidence you can count on each and every day.
Finnpipette features you trust
"We have always found Finnpipettes address a variety of ergonomic issues for our users; from the short form pipettes that assist individuals with a smaller hand size to the development of the index finger trigger pipetting action that can be used by left or right handed individuals and takes the strain away from the thumb. We have been highly impressed by these innovations that aim to address RSI at the bench."
- Assistant Laboratory Manager, UK
---
Say Hello to the Finnpipette Novus
Index-Finger Operation, Multilingual User Interface
Why electronic?
Finnpipette Novus blends the control and light weight of manual pipettes with the precision and efficiency afforded by electronic pipettes. The motorized actions reduce the personal hand effect of manual pipettes and reduce risk of injury from repetitive pipetting. For easy daily pipetting, Novus features one press access for basic pipetting functions forward, reverse, multidispensing and dilute. Personalize up to 9 programs for your most common protocols, saving time and improving consistency.
Intuitive menu provides easy access
to functions
The large screen displays a range
of information
Work in your native language;
choose from seven
---
Novus pipetting functions
Pipette (forward technique)
The forward technique is recommended for aqueous solutions, such as buffers, diluted acids or alkalis.
Rpipet (reverse & repetitive technique)
The reverse technique is suitable for dispensing liquids that have a high viscosity or a tendency to foam easily. The technique is also recommended for dispensing very small volumes.
The repetitive technique offers a rapid and simple procedure for repeated delivery of the same volume.
Stepper
With STEPPER function repeated dispensing of one selected volume is possible. Excellent particularly for microplate applications.
Dilute
With DILUTE function dispensing of two selected volumes with an air gap between is possible.
"I was suffering with RSI* in my right hand and arm as a result of years of pipetting using standard pipettes. Faced with taking a break from lab work or not using pipettes, I ordered the Novus series. These pipettes have allowed me to carry on without putting any strain on my arm and hand. My co-workers agree since they will often 'borrow' my pipettes."
– Dr. Farhat Khanim, University of Birmingham, UK
---
FinnTip
A pipette is only as good as its tip
Performance Across all Applications, All Sizes and Styles
Finntips are designed, developed and manufactured to perfectly fit Thermo Scientific Finnpipettes. A pipette's performance is directly related to the quality of the pipette tip—a pipette is only as good as its tip. This system provides optimal liquid handling results.
Learn more about our pipetting systems
California Proposition 65 Warning: Products manufactured with polycarbonate (PC), polyethylene terephthalate (PET), polyethylene terephthalate glycol (PETG) or polystyrene (PS) contain chemicals known to the State of California to cause cancer, birth defects or other reproductive harm.