Real-time PCR (qPCR) defined
Whether you're new to real-time PCR, also called quantitative PCR (qPCR), or want to learn about new applications for qPCR, we have the learning material, including videos and webinars, to help you understand the technology and get started quickly.
qPCR combines PCR amplification and detection into a single step. This eliminates the need to detect products using gel electrophoresis, and more importantly it enables the method to be truly quantitative. With qPCR, fluorescent dyes are used to label PCR products during thermal cycling. Real-time PCR instruments measure the accumulation of fluorescent signal during the exponential phase of the reaction for fast, precise quantification of PCR products and objective data analysis.
Featured real-time PCR resources
Quickly learn the essentials of real-time PCR and Applied Biosystems™ TaqMan® Assays with our brief introductory videos.
Learn more about real-time PCR instruments, assays, reagents and applications by viewing our informative webinars.
Get answers to your qPCR questions with our library of quick and easy how-to videos covering a variety of topics.
Free Real-Time PCR Handbook
Our Real-time PCR Handbook is an excellent resource for anyone who is new to real-time PCR and is interested in learning the basic principles of the technology. This 3rd edition contains 6 chapters in 70 pages and also covers topics such as assay design, data analysis, real-time PCR tips and troubleshooting.
Introduction to real-time PCR
Real-time PCR sequencing detection chemistries
qPCR reactions use the same components as standard end-point PCR reactions, with the addition of a fluorescent label that creates a signal during the PCR reaction. The products for qPCR are fluorescently labeled using one of two main strategies:
Applied Biosystems™ TaqMan® fluorogenic probes—target-specific oligonucleotides that produce a fluorescent signal only when the target DNA is amplified during qPCR.
Applied Biosystems™ SYBR™ Green I dye—binds to double-stranded DNA and emits fluorescence only when bound.
There are many factors that help determine which labeling chemistry is right for your applications. Our TaqMan Chemistry vs. SYBR Chemistry for Real-Time PCR selection guide can help you determine which chemistry to use.
Detection & quantification of real-time PCR products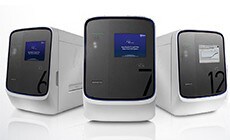 Reactions are run in real-time PCR instruments with thermal cycling and fluorescence detection capabilities. By using highly-efficient PCR primers and optimal conditions for amplification, every target molecule is copied once at each cycle and data are captured throughout the thermal cycling. Since qPCR reactions are set up with a large molar excess of PCR primers and thermostable DNA polymerase, the target-template is the limiting factor for the reaction in the early rounds of thermal cycling and fluorescent signal is directly proportional to the amount of target in the input sample.
What can you do with real-time PCR?
Real-time PCR is used for many applications, including gene expression analysis, microRNA analysis, SNP genotyping, CNV analysis, and even protein analysis.
Gene expression analysis is the most commonly-used application for qPCR. RNA is reverse transcribed and the resulting cDNA is used as a template in the qPCR reaction to detect and quantitate gene expression products. This can be accomplished using either a one-step process; our One Step vs. Two Step Kits comparison can help you determine whether a one-step or two-step process is right for you.