After IHC staining of the target antigen, a second chemical stain is often applied to provide contrast that helps the primary staining product stand out. Many of these chemical counterstains show specificity for discrete cellular compartments or antigens, while others will stain the whole cell. The chemical and fluorescent dyes available as counterstains for IHC provide enough variety such that researchers can easily achieve their imaging goals.
---
Examples of IHC counterstaining
The two images that follow provide examples of chromogenic and fluorescence IHC staining, respectively.
CD138 antibody in IHC (FFPE). Chromogenic IHC analysis of Syndecan-1/CD138 (Cat. # 36-2900) showing staining in the cytoplasm and membrane of FFPE human small intestinal tissue (right) compared to a negative control without primary antibody (left). To expose target proteins, antigen retrieval was performed using 10 mM sodium citrate (pH 6.0), which was heated by microwave oven for 8 to 15 minutes. Following antigen retrieval, endogenous peroxidase activity was blocked in 3% H2O2-methanol for 15 minutes at room temperature. The slide was washed with ddH2O and PBS, and then probed with a Syndecan-1/CD138 polyclonal antibody (Cat. # 36-2900), diluted in 3% BSA-PBS at a dilution of 1:100 overnight at 4°C in a humidified chamber. Tissues were washed extensively in PBST and detection was performed using an HRP-conjugated secondary antibody followed by colorimetric detection using a DAB kit. Tissues were counterstained with hematoxylin and dehydrated with ethanol and xylene to prepare for mounting.
---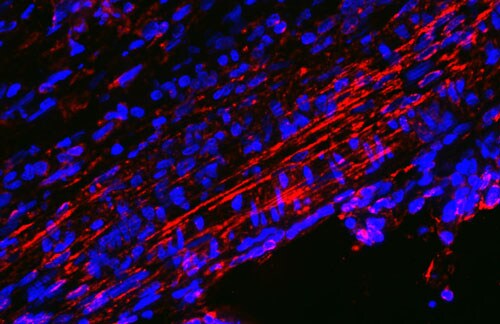 Fluorescene IHC detection of cytokeratin 18 in colon carcinoma tissue. Human colon carcinoma sections were stained for cytokeratin 18 using an anti–cytokeratin 18 primary antibody (Cat. # MA5-12104) and Invitrogen DyLight 594–conjuated goat anti-rabbit secondary antibody (Cat. # 35560, red fluorescence). Thermo Scientific Pierce Hoechst fluorescent stain (Cat. # 62249) was also used to counterstain the cell nuclei (blue fluorescence).
---
Hematoxylin, which is usually used together with eosin (H&E stain), is one of the most commonly used dyes in diagnostic histology. It is also used alone as a nuclear counterstain in IHC. Oxidized hematoxylin is combined with aluminum ions to form an active metal–dye complex that stains the nuclei of mammalian cells blue by binding to lysine residues on nuclear histones. This is in contrast to other nuclear stains that label the nucleic acids.
Nuclear fast red, also called Kernechtrot dye, is another nuclear stain. The main difference between this dye and hematoxylin is that Nuclear fast red stains nucleic acids red in only about 5 minutes. Optimum staining with hematoxylin can take up to 1 hour. Methyl green is also a nucleic acid dye that rapidly stains the nuclei green.
---
Fluorescent counterstains
DAPI  (4', 6-diamidino-2-phenylindole) and Hoechst 33342 are common nuclear dyes used for fluorescence IHC because they intercalate into the DNA to give a strong blue color under UV excitation. Propidium iodide is another nucleic acid dye that is frequently used to dye the nucleus red.
Phalloidin is a fungal toxin that binds to filamentous, but not globular (free) actin. This peptide derivative is commonly conjugated to fluorophores and used in fluorescence microscopic applications to label the actin cytoskeleton in cells. The color used is dependent upon the fluorophore that is conjugated, and a variety of fluorophore-conjugated phalloidin products are commercially available.
---
Summary table of counterstains
Common counterstains and their targets
| | | | |
| --- | --- | --- | --- |
| Type | Dye | Target | Color |
| Chemical stain | Mayer's Hematoxylin | Nuclei | Blue to violet |
| Chemical stain | Nuclear fast red (Kernechtrot) | Nucleic acids | Red |
| Chemical stain | Methyl green | Nucleic acids | Green |
| Chemical stain | Eosin | Cytoplasm | Pink to red |
| Fluorescent | Hoechst stain | Nucleic acids | Blue |
| Fluorescent | 4', 6-diamidino-2-phenylindole (DAPI) | Nucleic acids | Blue |
| Fluorescent | Propidium iodide | Nucleic acids | Red |
| Fluorescent | Fluorophore-tagged phalloidin | Filamentous actin | Fluorophore-specific |
---
Coons AA et al. (1942) J Immunol  45:159–170.
Beisker W et al. (1987) Cytometry  8:235–239.
Cowen T et al. (1985) Histochemistry  82:205–208.
Mosiman VL et al. (1997) Cytometry  30:151–156.
Romijn, Herms J et al. (1999) J Histochem Cytochem  47:229–236.
For Research Use Only. Not for use in diagnostic procedures.