Precise™ Tris-Glycine Gels
Thermo Scientific™ Precise™ Tris-Glycine Gels are long shelf-life, fast run-time polyacrylamide gels for SDS-PAGE that use the popular Laemmli buffer system and commercial gel tanks to help provide outstanding protein resolution and separation.
Precise™ Tris-Glycine Gels are cast as 1 mm think mini gels in two durable plastic cassette sizes: 10 cm x 10 cm x 7 mm cassettes that fit in Novex® XCell gel tanks, 8 cm x 10 cm x 5 mm cassettes that fit in Mini-PROTEAN™ gel tanks. The gels are individually packaged in easy-to-open plastic pouches and are ready for electrophoresis with no comb or tape removal required. Following electrophoresis, the easy-open cassette design minimizes gel damage and allows gels to be removed without special tools. These Precise Gels are available in gradient (4 to 20% and 8 to 16%) and fixed (8%, 10% and 12%) acrylamide concentrations and in 10-well, 12-well and 15-well formats.
Precise Tris-Glycine gel features
High-performance–Tris-glycine running buffer helps produce excellent separation and high-resolution protein bands
Long shelf-life–up to 12-month stability helps ensures consistent performance for the duration of each package of gels
Easy to load–sample wells reinforced with plastic to minimize damage when loading and well-to-well contamination
In addition to Precise Tris-Glycine gels, we offer many other minigels in various formulations. Find the right one for your experiment using our interactive gel selection tool.
Specifications of Precise Tris-Glycine gels
Cassette dimensions: 8.0 cm x 10 cm x 5 mm or
10 cm x 10 cm x 7 mm
Gel dimensions: 6.8 cm x 8 cm x 1 mm or
8.8 cm x 8 cm x 1 mm
Storage conditions: up to 1 year at 4°C
Stacking gel: 4% polyacrylamide
Buffer system in gel: Tris-HCl, pH 7
SDS content: none
Required running buffer: Tris-glycine-SDS
Recommended sample buffer: Tris-HCl-SDS or LDS-SDS
Compatible gel tanks
Bio-Rad™ Mini-PROTEAN™ II and 3
Bio-Rad Mini-PROTEAN Tetra Cell
Hoefer™ Tall Mighty Small™ (SE 280)
Hoefer™ Mighty Small II (SE 260)
IBI Scientific Universal Protein Systems
Novex™ XCell I, XCell II and XCell II SureLock™
Precise Tris-Glycine gel selection table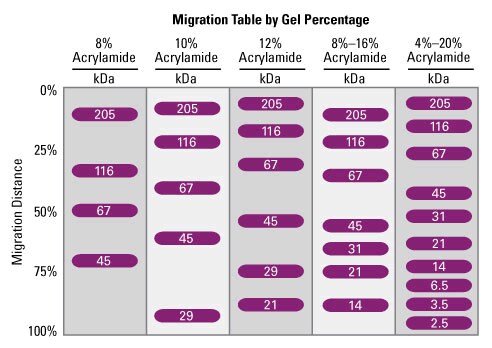 Figure 1: Protein migration table of the various gels.
Video: Separating proteins by SDS-PAGE
For Research Use Only. Not for use in diagnostic procedures.