Thermo Scientific Precise™ Protein Gels are precast polyacrylamide gels for protein electrophoresis that use Tris-HEPES running buffer, have long shelf lives, and provide compatibility with different commercial gel tanks.
Precise™ gels are cast in a durable plastic cassette using a neutral-pH buffer that helps prevent polyacrylamide breakdown and results in a long shelf life. High-resolution staining and transfer of proteins can be accomplished quickly when using these 1 mm thick mini gels. Gels are individually packaged in an easy-to-open plastic pouch and are ready to run with no comb or tape removal required. Following electrophoresis, the cassettes are easy to dismantle (no special tools required) without damaging the gel. Precise™ Gels are available in gradient (4 to 20% and 8 to 16%) and fixed (8%, 10% and 12%) polyacrylamide concentrations and in 10-well, 12-well, and 15-well formats.
Precise Tris-HEPES gel features
High-performance—unique running buffer helps produces excellent separation and high-resolution protein bands
Long shelf life—up to 12-month stability helps ensures consistent performance for the duration of each package of gels
Fast—45-minute run-time provides results quickly; 90 minute transfers to nitrocellulose and PVDF membranes; rapid coomassie and silver staining
Large-volume wells—innovative well design accommodates twice the sample volume of typical mini-gel cassette wells (10-well = 50 µL; 12-well = 30 µL; 15-well = 25 µL)
Compatible—cassettes fit many popular mini-gel tanks, and gels can be loaded using standard Laemmli sample loading buffers
Several formulations—choose from five gel densities and three well formats
In addition to Precise Tris-HEPES gels, we offer many other minigels in various formulations. Find the right one for your experiment using our interactive gel selection tool.
Specifications of Precise Tris-HEPES Gels
Cassette dimensions: 10 cm x 8.5 cm x 4.5 mm
Gel dimensions: 8 cm x 5.8 cm x 1 mm
Storage conditions: up to 1 year at 4°C
Stacking gel: 4% polyacrylamide
Buffer system in gel: Tris-HCl, pH 7
SDS content: none
Required running buffer: Tris-HEPES-SDS (Part No. 28398)
Recommended sample buffer: Tris-HCl-SDS (any type)
Fisher Biotech™ Vertical Minigel System
BioRad™ Mini-PROTEAN™ II and 3
Thermo Fisher Scientific XCell I, II™ and Surelock™
IBI Universal Protein System; EC 4-Cell
Hoefer Tall Mighty Small™ (SE 280), Mighty Small II (SE 260/ SE 250), Mini VE System (SE 300)
C.B.S. Scientific MGV 302/402
Daiichi Mini 2-Gel and 6-Gel
GradiGel Mini 4-Cell
Precise Tris-HEPES gel selection table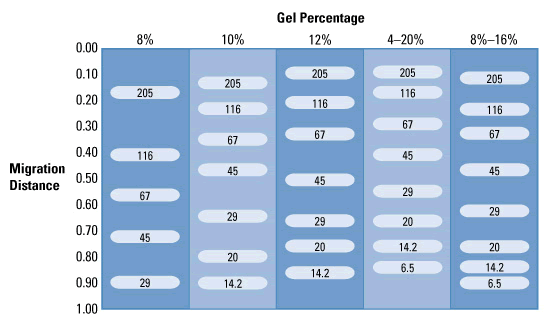 Chart of resolution and migration profiles for Thermo Scientific Precise Protein Gels (Tris-HEPES Gels). Values in each lane are protein sizes in kilodaltons (kDa) for the tested protein molecular weight marker.
Video: Separating proteins by SDS-PAGE
For Research Use Only. Not for use in diagnostic procedures.