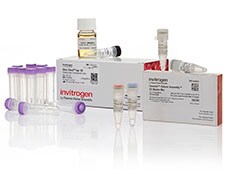 Effortlessly arrange DNA fragments to create something truly epic with GeneArt Gibson Assembly Cloning
Gibson Assembly Cloning is an elegant and robust seamless or scar less cloning methodology that has been widely adopted by the scientific community and enables the assembly of multiple DNA fragments regardless of length or end compatibility in a highly efficient, seamless method.
Product highlights:
Elegant –Homologous overlap design allowing up to 15 DNA fragments to build the perfect seamless clone
Efficient –Cloning efficiencies up to >95% help save time and resources to accelerate your research
Proven –The Gibson Assembly method has been referenced in thousands of peer reviewed publications
Versatile –Can be used to build entire genomes de novo
Flexible –GeneArt Gibson Assembly kits are available complete with competent cells or master mix formats for maximum flexibility
Shop now ›
For Research Use Only. Not for use in diagnostic procedures.
© 2020 Thermo Fisher Scientific Inc. All rights reserved. All trademarks are the property of Thermo Fisher Scientific and its subsidiaries unless otherwise specified.