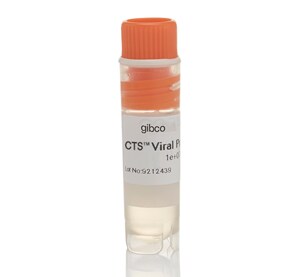 Lentiviral Vector Production
GMP banked HEK 293 cells for viral vector production
CTS Viral Production Cells are derived from the human embryonic kidney (HEK) 293 cell line and were adapted to suspension culture in a chemically defined medium. These cells were developed to support cell and gene therapy applications, particularly intended for viral vector manufacturing.
These cells are optimized to culture in suspension with the CTS LV-MAX Production Medium.
Fully documented cGMP-banked cell line (HEK 293F derived) with detailed cell line lineage history
Absence of SV40 large T antigen
Supports >10 million cells/mL in chemically-defined medium
Order now ›
For Research Use Only. Not for human or animal therapeutic or diagnostic use.
© 2019 Thermo Fisher Scientific Inc. All rights reserved. All trademarks are the property of Thermo Fisher Scientific and its subsidiaries unless otherwise specified.