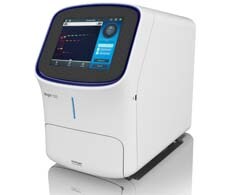 iBright Western Blot Imaging Systems
Simplify western blot and gel documentation
The Invitrogen iBright 1500 Series Imaging Systems balance powerful features and hardware in a package that is easy to use for researchers of all experience levels.
Smart Exposure technology: provides rapid determination of optimal exposure time
9.1 MP cooled CCD camera: high sensitivity and dynamic range to help enable the detection of subtle differences in samples
Advanced automated features: automatic sample rotation, automatic zoom, and automatic focus help streamline image capture
Five fluorescence channels: multiplex and capture up to four proteins in a single blot for more meaningful and representative experiments (FL1500 model only)
Simple interface: clear layout of functions and features combined with a 12.1-inch capacitive touchscreen for a smooth imaging experience
Learn more ›
For Research Use Only. Not for use in diagnostic procedures.
© 2019 Thermo Fisher Scientific Inc. All rights reserved. All trademarks are the property of Thermo Fisher Scientific and its subsidiaries unless otherwise specified.