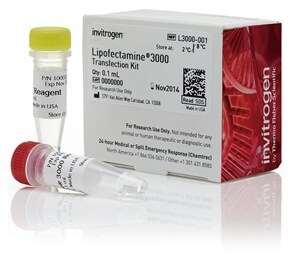 Invitrogen Lipofectamine reagents are designed for effective and efficient nucleic acid delivery into both traditional and difficult-to-transfect cell lines.
Expertise in cellular and molecular biology is behind the Invitrogen product portfolio, which are the most cited and trusted transfection and selection systems available.
With a range of transfection reagents to best suit your experiment, use this selection tool to help you achieve the highest transfection efficacy and reproducibility possible.
Find the right kit ›
For Research Use Only. Not for use in diagnostic procedures.
© 2020 Thermo Fisher Scientific Inc. All rights reserved. All trademarks are the property of Thermo Fisher Scientific and its subsidiaries unless otherwise specified.