Genetic Analyzer Trade-in for SeqStudio System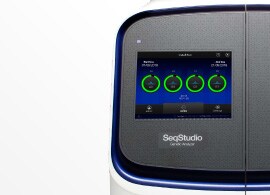 Sanger Sequencing is just a click away
Upgrade your lab to the new Applied Biosystems SeqStudio Genetic Analyzer so you can quickly analyse a few samples when you need to.
The cartridge-based system removes the set-up and maintenance hassle of your older systems, and generates the same gold standard data for up to 4 samples at a time.
Our limited time offer* allows you to trade in your 310, 3100 or 3130 and upgrade to the SeqStudio Genetic Analyzer.
Offer expires December 28, 2018.
Get details ›
* See promotion details page for ordering instructions and terms & conditions.
For Research Use Only. Not for use in diagnostic procedures.
© 2018 Thermo Fisher Scientific Inc. All rights reserved. All trademarks are the property of Thermo Fisher Scientific and its subsidiaries unless otherwise specified.