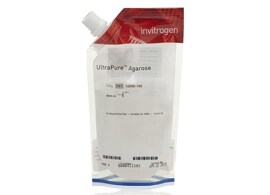 UltraPure Agarose and Reagents
We offer a range of UltraPure agarose and reagents to meet your nucleic acid analysis and purification needs.
UltraPure agarose and reagents are made from the highest purity biochemicals for maximum reliability and superior performance.
Enjoy the benefits of a quality product in easy-to-use packaging. Our reagent pouches feature a spout that make pouring and dispensing the powder easier, reducing the likelihood of spills and contamination.
Get details ›
For Research Use Only. Not for use in diagnostic procedures.
© 2019 Thermo Fisher Scientific Inc. All rights reserved. All trademarks are the property of Thermo Fisher Scientific and its subsidiaries unless otherwise specified.