Smart Connected Services providing active sample protection - Available now with Unity Lab Services Total Care Warranty and Service Plans
Life science research and clinical laboratories working with temperature-sensitive samples can now benefit from a new service designed to enable Thermo Fisher Scientific's dedicated team of technical experts to keep "digital eyes on" wifi-connected Thermo Scientific TSX Series Ultra-Low Temperature (ULT) Freezers, collecting and monitoring key performance data to drive optimal sample and product protection.
This new services feature is the first of its kind to monitor 37 types of alarms and 26 operating parameters for the customer to provide a holistic status overview of connected TSX Series ULT Freezers. This includes ambient and cabinet temperature, power failure, battery status, door ajar, connectivity signal, filter efficacy, and other parameters, events and alarms. This is the most comprehensive remote monitoring capable for the TSX Series Ultra-Low Temperature freezer, and enables proactive outreach on maintenance and service needs.
---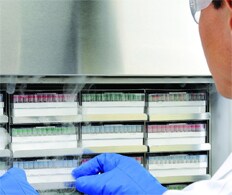 " I have access to data that I didn't before. This additional data will help me make decisions and manage new research staff."
— Bradley Carlson, Research Area Specialist Lead, Epidemiology Department, University of Michigan
---
Smart Connected Services include:
Real-time digital remote monitoring on parameters such as temperature, voltage, filter, battery, connectivity, door, and other individual components
Auto-notification to Unity Lab Services technical support professionals during business hours to quickly identify and resolve issues before they impact your freezer and sample integrity; including protecting your samples by working directly with you and your lab via phone, email, and Field Service Engineer dispatch to respond quickly
Intelligent health reports with advanced control charting to analyze current and historical data sets for anomalies across your fleet; along with condition-based maintenance recommendations to prevent failures
---
Connect your freezer in five easy steps
The connectivity mechanism in your Thermo Scientific Ultra-Low-Temperature Freezer works with most enterprise networks and is designed to be set up in minutes.
---
The Smart Connected Services feature is a standard entitlement on the new Unity Lab Services Total Care Warranty and service plan portfolio when applied to TSX Series ULT Freezers. Additional benefits of these plans include priority technical support with Digital Remote Support tools, priority on-site support, annual preventive maintenance and more.
For more information about these plans, please visit unitylabservices.com/labequipmentserviceplans