Save 40% off ExoSAP-IT Express PCR Cleanup Reagents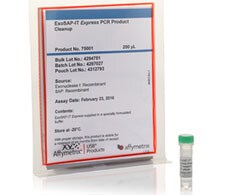 ExoSAP-IT Express: fastest PCR cleanup method
ExoSAP-IT Express reagent offers rapid turnaround times and improved efficiency of resource use while delivering the same superior cleanup as the original ExoSAP-IT reagent.
For a limited time, save 40% when you try
ExoSAP-IT™ Express PCR Product Cleanup Reagent.*
Learn more ›
*See promotion details page for ordering instructions and terms & conditions.
For Research Use Only. Not for use in diagnostic procedures.
© 2017 Thermo Fisher Scientific Inc. All rights reserved. All trademarks are the property of Thermo Fisher Scientific and its subsidiaries unless otherwise specified.