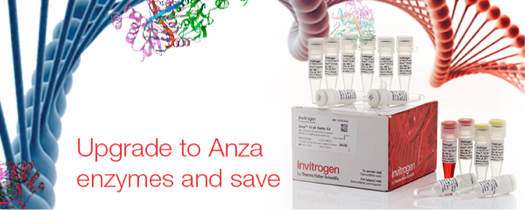 Save 50% when you order Anza™ Restriction Enzymes
Enter P1614236 (US) or P1614238 (CAN) at checkout*
Invitrogen™ conventional restriction enzymes will be discontinued on September 1, 2016. We've got you covered, though. To save:
Use the Anza Enzyme Finder Tool to find your enzyme thermofisher.com/anzafinder
Add your Anza enzyme(s) to cart
Enter promo code P1614236 (US) or P1614238 (CAN) at checkout
To learn more about the Anza Restriction Enzyme Cloning System, visit the link below:
* See promotion details page for ordering instructions, complete terms & conditions and guarantee disclaimers.

For research use only. Not for use in diagnostic procedures.

© 2016 Thermo Fisher Scientific Inc. All rights reserved. All trademarks are the property of Thermo Fisher Scientific and its subsidiaries unless otherwise specified.