CloneJET PCR Cloning Kit
Thermo Scientific CloneJET PCR Cloning Kit is an advanced positive selection system for high-efficiency cloning of PCR products generated with any thermostable DNA polymerase. Any other blunt or sticky-end DNA fragment can be cloned.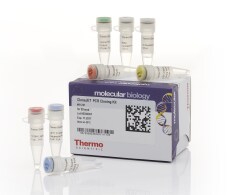 Highlights
Fast – PCR cloning in only 5 minutes
Highest efficiency – > 99% of positive clones
No cloning background – positive selection vector
Versatile – ideal for blunt-end or sticky-end cloning
Economical – no expensive blue/white screening
Learn more ›
For Research Use Only. Not for use in diagnostic procedures.

© 2017 Thermo Fisher Scientific Inc. All rights reserved. All trademarks are the property of Thermo Fisher Scientific and its subsidiaries unless otherwise specified.