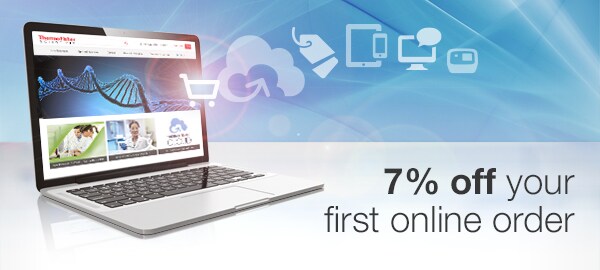 Registering online has its perks.
Use the below promotion code to complete your online-only purchase
Enter promotion code RDSI07 for a 7% discount
Having trouble getting started? Access order support guides:
Order support »
Help finding and ordering products »
FOR RESEARCH USE ONLY. NOT FOR USE IN DIAGNOSTIC PROCEDURES.
*This promotion is open to customers in the US (excluding Puerto Rico) and Canada. Offer excludes instruments, custom orders, services and HID products. Limited to Research Use Only products. Discount will apply to qualifying orders received by Life Technologies no later than September 30, 2015, or until promotional supplies are depleted, whichever comes first. Promotion code must be presented at the time of order. Customer can use the discount only once. Discount applies to the list price in effect at the time the order is received by Life Technologies. Cannot be combined with other discounts or promotions. Offer void where prohibited, licensed, or restricted by federal, state, provincial, or local laws or regulation or agency/institutional policy. Other restrictions may apply.