cDNA RT Kit and AmpliTaq Gold DNA Polymerase
High-Capacity cDNA Reverse Transcription Kit with RNase Inhibitor
The High Capacity cDNA Reverse Transcription Kit with RNase Inhibitor contains all components necessary for the quantitative conversion of up to 2 µg of total RNA to single-stranded cDNA in a single 20 µL reaction.
This particular kit also includes 2 tubes of RNase inhibitor (100 µL each).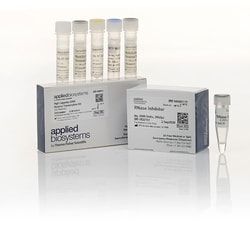 Features of this kit include:
Linear target amplification for real-time PCR
Higher yields and precision than other cDNA synthesis kits – at a fraction of the cost
10-fold greater dynamic range than other kits
Order now ›
---
AmpliTaq Gold DNA Polymerase with Gold Buffer and MgCl2
AmpliTaq Gold™ DNA Polymerase is a chemically modified form of AmpliTaq™ DNA Polymerase requiring thermal activation.

Features of this enzyme:
Automated chemical hot-start enzyme for increased specificity, sensitivity, and yield
Time-released thermal activation improves sensitivity in low copy number amplifications
Successful multiplex PCR saves time and reagents
Includes GeneAmp™ 10X PCR Gold Buffer with MgCl2
Order now ›
For Research Use Only. Not for use in diagnostic procedures.

© 2017 Thermo Fisher Scientific Inc. All rights reserved. All trademarks are the property of Thermo Fisher Scientific and its subsidiaries unless otherwise specified.