Ion S5 and Ion S5 XL Next-Generation Sequencing Systems for Targeted Sequencing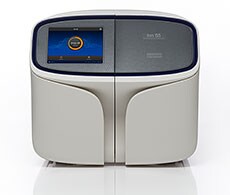 Adopting next-generation sequencing (NGS) in your lab is now simpler than ever.
The Ion S5 and Ion S5 XL Systems enable the simplest targeted sequencing workflow for your lab with industry-leading speed and affordability.
With simple cartridge-loaded reagents and a straightforward user interface, the Ion S5 and Ion S5 XL Systems make NGS fast and easy – ideal for any cancer or inherited disease research lab.
Learn more ›
For Research Use Only. Not for use in diagnostic procedures.

© 2017 Thermo Fisher Scientific Inc. All rights reserved. All trademarks are the property of Thermo Fisher Scientific and its subsidiaries unless otherwise specified.