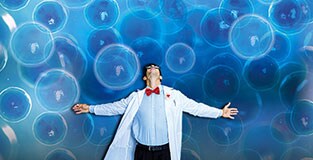 Save 33% when you upgrade to Lipofectamine 3000 reagent (1.5ml)
Use promo code
P1562349

(US) or

P1652352

(CA)

Lipofectamine 3000 Transfection Reagent leverages our most advanced lipid nanoparticle technology to provide superior transfection performance with improved application outcomes and reproducible results.

Successfully transfect the widest variety of biologically relevant cell types with a reagent that offers:
Superior performance - our highest efficiency reagent for difficult-to-transfect cells
Improved cell viability - gentle on your cells, with low toxicity
Versatile - one reagent for DNA, RNA, and co-transfection
Eligible Lipofectamine 3000 reagent: L3000015 (1.5ml)
* This promotion is open only to customers in the US (excluding Puerto Rico) and Canada. Promo code P1562349 (US) or P1652352 (CA) must be added to the order. Offer expires December 31, 2016, or when supplies are depleted, whichever comes first. Offer void where prohibited, licensed, or restricted by federal, state, provincial, or local laws or regulation or agency/institutional policy. Other restrictions may apply.

For research use only. Not for use in diagnostic procedures.

© 2016 Thermo Fisher Scientific Inc. All rights reserved. All trademarks are the property of Thermo Fisher Scientific and its subsidiaries unless otherwise specified.