TrueCut Cas9 Protein v2
Invitrogen TrueCut™ Cas9 Protein v2 is a next-generation CRISPR Cas9 protein engineered to deliver maximum editing efficiency.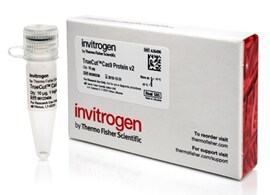 Features include:
Consistently high editing efficiency in all tested cell lines including standard, immune, primary, and stem, with up to 2X higher editing efficiency in difficult targets than the competition
High quality – manufactured under strict ISO 13485 quality standards
Validated protocols for a large number of cell types help you achieve success faster
Order now ›
For Research Use Only. Not for use in diagnostic procedures.

© 2018 Thermo Fisher Scientific Inc. All rights reserved. All trademarks are the property of Thermo Fisher Scientific and its subsidiaries unless otherwise specified.