SuperScript IV Reverse Transcriptase
SuperScript® IV Reverse Transcriptase (RT) is a proprietary MMLV mutant with superior robustness and reliability in RT reactions.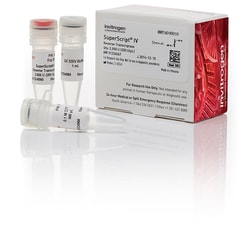 Features of SuperScript IV Reverse Transcriptase include:
Significantly improved resistance to a variety of inhibitors that can interfere with cDNA synthesis
Robust and specific cDNA synthesis in a wide range of sample types
A faster reverse transcriptase reaction that reduces the incubation time from >50 minutes to 10 minutes
Significantly better processivity compared to SuperScript III RT
Order now ›
For Research Use Only. Not for use in diagnostic procedures.

© 2018 Thermo Fisher Scientific Inc. All rights reserved. All trademarks are the property of Thermo Fisher Scientific and its subsidiaries unless otherwise specified.