Getting help with your instrument should be a quick pitstop, not a day long interruption.
Through immersive, real-time collaboration tools, we can help identify and possibly resolve issues remotely in minutes, helping to eliminate the need for on-site repairs that could keep you idle for days.
Currently available for life science instruments covered by a Thermo Fisher Scientific instrument service contract or warranty plan.
Mobile Augmented Reality (AR) Support
Virtually transport one of our engineers into your lab in as little as 20 seconds, which may reduce average instrument downtime from days to minutes.
Desktop Remote Support
When challenges require a deeper dive, we offer full system support with instrument and computer troubleshooting. Using IT-friendly remote support access, our engineers can navigate your desktop to better understand and address your computer or software related questions.
Smart Help
What if troubleshooting an instrument issue was as easy as pushing a button? With our Instrument Service Plans, it is. Instrument-driven support streamlines issue resolution by enabling push-button log and run file delivery to technical support to help get you back up and running faster.
Features include:
On-screen technical help
Push-button log and run file delivery to technical support
Currently available for the Applied Biosystems QuantStudio 6 and 7 Pro Real-Time PCR Systems.
Proactive problem detection and faster service resolution
Remote Monitoring and Diagnostics Service
Improve instrument uptime by solving issues proactively. Instrument performance data is sent securely to our service support team who can qucikly and proactively troubleshoot, diagnose, and help maintain performance of your instruments.
Digital SmartStart™ Training
Having a great instrument is good. Knowing how to use it—and getting up to speed quickly—is paramount. Learning formats include: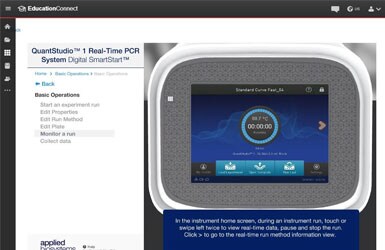 3D Experience
A uniquely interactive experience that teaches your team how to use a new instrument. Consider it your interactive user manual in 3D. Currently available for the EVOS M5000 Cell Imaging System and QuantStudio 1 Real-Time PCR System.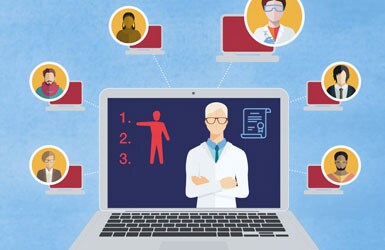 LabCoat Live
Intensive eLearning modules focused on how to effectively use our products or kits. Learn about our products, proper techniques, and analyze your results with a blend of virtual and hands-on learning. More courses coming soon.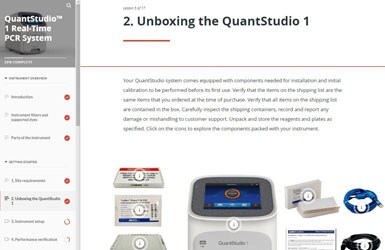 eLearning
Interactive self-guided training on your specific instrument or product.
Accelerate your science
Instrument uptime is only part of an efficient laboratory. Connect, our cloud-based platform, enables you to get connected to your data more easily and quickly than ever before.
Set up and monitor your run
View, manage, and share your data from anywhere, using your phone, tablet, or computer (Mac or PC)
Leverage remote monitoring for instrument status and run progress anytime, anywhere, using the Instrument Connect mobile app for iOS and Android
Use secure connections to share data and collaborate with colleagues