Nucleic Acid Electrophoresis
At Life Technologies, we understand the importance of meeting your product development needs to ensure your manufacturing success. We also understand the importance of using high-quality products in your commercial services.
Life Technologies provides the most complete collection of tools and reagents for nucleic acid electrophoresis in the life science industry. These tools can be made available to you to meet your commercial-use needs for a complete nucleic acid analysis solution.

Gel Electrophoresis
E-gel® precast gels make agarose electrophoresis fast, easy, and safe. Each E-Gel® agarose gel is a self-contained, complete electrophoresis system that includes agarose, your choice of DNA gel stain, electrodes, and patented ion-exchange matrices contained inside a disposable UV-transparent cassette. Our unique TrackIt™ DNA ladders are ready to load and contain two tracking dyes that indicate when maximum resolution of the samples has been achieved. Our precast gels and ladders can be complemented with our SYBR® Safe DNA gel stain, which was developed specifically for reduced mutagenicity—to be safer and provide better detection sensitivity than ethidium bromide for staining DNA in agarose or acrylamide gels.
Capillary Electrophoresis and Microfluidics
We also offer a portfolio of high-sensitivity nucleic acid stains that can be used in combination with capillary electrophoresis or microfluidics-based electrophoresis platforms. These molecules are essentially non fluorescent until they bind nucleic acids, at which time they exhibit bright signals. Our fluorescent and fluorogenic dyes set the standard for microfludics-based electrophoretic analysis and are the detection reagents used in essentially all commercially-available platforms today. We can recommend or develop stains that are designed to match your instrument's combination of optical parameters, solubility, brightness, and many other factors.
In addition, a number of our fluorescent dyes and their conjugates are used as electrophoretic migration standards in microfluidics and capillary electrophoresis applications. We can also provide size ladders that are optimized for use in combination with our capillary electrophoresis instrumentation.
Protein Electrophoresis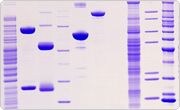 Gel Electrophoresis
Whether you are developing a test that requires electrophoretic separation of proteins and you'd like your kit to provide your customer with a complete solution, or you want to include protein electrophoresis in your diagnostic services, forensic service, or contract research service offering, we have the tools for you. Separate proteins easily using NuPAGE®, Novex®, and NativePAGE™ gels and optimized stains and standards for fast and accurate electrophoresis results. Silver, colorimetric and fluorescent gel stains are available for protein detection. Unlabeled, colored, and fluorescent protein size markers can be tailored to meet your needs. Stains, ladders, and antibodies are available for detecting glycoproteins, His-tagged proteins, phosphoproteins, lipoproteins, and other modified proteins and peptides.
Western Blots

A wide range of tools are available for western blotting, including membrane stains, fluorescent antibody, and streptavidin conjugates, Qdot® nanocrystal (quantum dot) conjugates, primary antibodies, protein A and G, gold particle conjugates, normal sera, other blocking reagents, and more.
Microfluidics

We also provide the fluorescent detection reagents that are used in the industry's leading microfluidics platforms and can design, develop, and provide reagents tailored for use with your instrument and microfluidics platform as well.
To learn more about how our electrophoresis tools and technologies can help you with your commercial-use needs, please contact us at outlicensing@lifetech.com.