Brooke Schuster, PhD candidate
University of Chicago, USA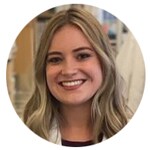 Brooke completed a BS in Integrative Biology Honors and Chemistry at the University of Illinois Urbana-Champaign (UIUC) in 2014, graduating with high distinction and honors. During her undergraduate career, Brooke's first experience with cell culture was working with equine (horse) stem cells at University of Illinois School of Veterinary Medicine. She even assisted the veterinarians in the tissue and cell collection process. Through this research, she developed her undergraduate honors thesis examining the molecular mechanisms behind osteogenic differentiation for regenerative medicinal applications, leading to her first research publication in Tissue Engineering. Brooke finished her undergraduate career as a member of Dr. Marty Burke's research group, a chemical biology-focused laboratory, and studied the use of certain small molecules as potential synthetic membrane transporters in the context of cystic fibrosis.
After graduation, Brooke spent time away from academia and worked two years in the medical field, primarily as a clinical research assistant for a medical device start-up company. She traveled the country working with various physicians and medical staff overseeing one of the largest clinical trials for cervical cancer.
In Fall 2016, Brooke began graduate school as a PhD candidate at The University of Chicago. Soon after, she joined the multidisciplinary team in Dr. Savas Tay's laboratory in The University of Chicago's Institute of Molecular Engineering. Brooke's project focused on the development of a microfluidic-based 3D cell culture platform, such as patient-derived cancer organoids, with automated and high-throughput capabilities. She continues to use and develop this integrated platform in hopes to advance the capabilities of research on cancer organoid models, screen and mirror real-life patient chemotherapy treatments and, ultimately, one day facilitate treatment decisions for the development of personalized cancer therapies.
Learn about Brooke's research
Title: An automated cancer organoid culture platform to accelerate research and drug screening
Learning objectives
Understand the difference between traditional and microfluidic based cell culture technologies
Learn about applying biomedical engineering techniques to advance current 3D cell culture technologies, specifically cancer organoid culture systems
Discover the potential application and capabilities of automatic, high throughput, and dynamic cell culture platforms
Recent advances in in vitro 3D cellular culture technologies, such as organoids, rapidly developed and established novel, more physiologically relevant models for basic biology and clinical applications. Traditionally, high-throughput microfluidics and other similar technologies have relied on two-dimensional (2D) cell models for the study of various human conditions and diseases, yet they are not compatible with 3D culture. I will discuss the development of an automatic and dynamic microfluidic ex vivo organoid culture modeling system to facilitate and accelerate preclinical research and the development of personalized treatment strategies. This integrated platform combines microfluidics, automatic dynamic and temporal stimulations (i.e., combinatorial drug screenings), combined with in silico data analysis and prediction tools. The platform can be used to advance the capabilities of research on cancer organoids models, screen and mirror real life patient chemotherapy treatments and ultimately facilitate treatment decisions for the development of personalized therapies.
Watch the webinar
Get to know Brooke
Why did you choose cancer research? 
Growing up, I always enjoyed and accelerated in science and math. I did not know much about other scientific careers and opportunities, so I just assumed the natural next step would be to go on to medical school. After undergrad, where I participated in multiple research projects, I took two gap years to explore and debate whether I should go on to medical school or graduate school. Ultimately, after my experience as a Clinical Research Associate for a nation-wide clinical research study on cervical cancer, I decided that my passion lies with research and contributing to new scientific discoveries that could potentially enhance the current medical field.
What motivates you to succeed in your field? 
My motivation to succeed is very much self-driven with the hope my research could one day help advance the medical field.
Is outreach/STEM important to you? Why?
Stem Outreach is incredibly important to me as I wouldn't be where I am now if I didn't have mentors encouraging and guiding me to where I am today. To pay it forward, I co-founded a chemistry related outreach event at University of Chicago in collaboration with Chicago Public Schools and Chicago Pre-College Science and Engineering Program. Each year, we host an introduction to chemistry program where we host a series of lectures and plenty of hands on demos. Our topics include general chemistry, organoid chemistry, medicinal chemistry/pharmaceuticals, and chemical biology/ biotechnology!
What are your top 3 favorite things to do outside of the lab?
I am an avid horseback rider and currently share board for a retired race horse named Denver. When the weather permits, I love boating on Lake Michigan or on the Illinois River. I also enjoy just relaxing and spending time with my 3 cats.
Describe yourself with 3 words:
Adventurous, persistent, sociable
Who is the person you are closest with?
My fiancé Kevin is my best friend and biggest cheerleader for anything I try to succeed in, especially my scientific career. I am also very fortunate that my parents still live nearby as well, and I get to see them quite often!
If you didn't have to sleep, what would you do with the extra time?
I love sleeping and thoroughly enjoy taking a nap if I ever get the time! So, I am always thinking about this question in terms of if you didn't need to eat and how much time that would save (imagine how many less dishes there would be to clean!)...there would be so much more time for activities. I would spend more time at the barn with horses or other physical activity like bike riding or going to the gym to break up long days in lab.
What are some small things that make your day better?
Podcasts definitely have been an asset to my day. Whether it is weekly scientific news, interesting history podcasts, or my favorite binge worthy true crime podcasts...they definitely add to my daily commute and working around lab!
I want to be the next Gibco Cell Culture Hero
As a Gibco Cell Culture Hero you will be a part of a growing community of global PhD and postdoc researchers who promote education and drive tomorrow's breakthroughs.
Complete the form below for a chance to present your research to a global audience via webinar, share your story of success and perseverance to the world on thermofisher.com.
Must be a PhD or postdoc using cell culture to apply. Must be passionate about communicating science within your social media networks.
Links to content or other Internet sites should not be construed as an endorsement of the organizations, entities, views or content contained therein. The opinions and/or views expressed on social media platforms represent the thoughts of the individual and online communities, and not those necessarily of Thermo Fisher Scientific.
For Research Use Only. Not for use in diagnostic procedures.