Daisy Shu, PhD
Postdoctoral Fellow at Schepens Eye Research Institute at Harvard Medical School, Boston, MA, USA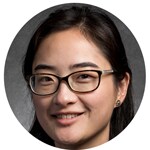 Daisy Shu received her BOptom and BSc degrees from the University of New South Wales (UNSW) Sydney, Australia in 2012. She then worked in clinical practice for two years before starting her PhD in Ophthalmology at the University of Sydney, Australia under the supervision of Professors Frank Lovicu and John McAvoy. Her research explored growth factor signalling pathways activated during the formation of fibrotic forms of cataract with a focus on transforming growth factor-beta (TGFβ)-driven epithelial-mesenchymal transition. She is currently a postdoctoral research fellow at Schepens Eye Research Institute, Harvard Medical School, Boston, MA in the Magali Saint-Geniez Laboratory studying the role of TGFβ in retinal diseases. Daisy currently serves on the Association for Research in Vision and Ophthalmology (ARVO) Advocacy and Outreach Committee (since 2018). Daisy has presented at numerous local, national and international conferences including ARVO, American Academy of Optometry Annual Meeting and the International Society for Eye Research (ISER). She is a recipient of American Academy of Optometry 2018 Irvin M. Borish Ezell Fellow, The University of Sydney John Irvine Hunter Prize for best publication in 2018, Australian Society for Medical Research (ASMR) 2017 Best Student Oral Presentation Prize and the ARVO 2016 Members-in-training Poster Prize in Lens. Daisy is passionate about science communication and outreach. She was part of the first cohort to complete the ARVO Science Communication Training Fellowship in 2017. She is a co-host of "The Peer Review", a podcast about science, research and academia. She successfully crowdfunded her PhD research project on cataract formation and prevention on Experiment.com in 2017. She enjoys updating her followers on her science adventures on social media via the handle @EyeDaisyShu.
Learn about Daisy's research
Title: Utilizing the lens epithelial explant culture system to investigate cataract formation
Learning objectives
Understand basic ocular lens anatomy and how disruption of this anatomy can result in lens pathology known as cataract
Understand how lens epithelial explants are generated and how they can be applied to explore lens epithelial cell behavior and how cataract forms
Understand the role of transforming growth factor-beta (TGFβ) and its downstream signaling pathways in cataract formation
Cataract, a clouding of the ocular lens, is the leading cause of blindness worldwide. Currently the only means of treatment is through surgical intervention. Given the sheer prevalence of cataract worldwide, surgical intervention places a significant financial burden on the health-care system. Hence, there is a need to develop pharmacological treatments to maintain the transparency of the lens. This webinar will explore the molecular and cellular basis of how cataract forms with a particular focus on the role of transforming growth factor-beta (TGFβ) and its downstream signaling pathways. The Lens Research Laboratory at the University of Sydney led by Professor Frank Lovicu seeks to unravel the complex interplay of growth factor signaling pathways involved in the formation of cataract and in doing so, find novel drug targets to combat cataract. The lens epithelial explant culture system was developed in the Lens Research Laboratory in the 1980s and has enabled the discovery of many now well-accepted phenomena about lens epithelial cell behavior. Using this model, observations can be made while primary lens epithelial cells are adherent to their native basement membrane, known as the lens capsule, thus enabling a closer representation of the in vivo situation compared to. This webinar will explain how lens epithelial explants are generated and utilized for experiments.
Watch the webinar
Get to know Daisy
Why did you choose eye research?
The eye is such a beautiful organ and I've always been fascinated by how our eyes enable us to see.
What motivates you to succeed in your field?
Humans are very visual beings and not surprisingly, sight is one of our most precious senses. To lose sight is such a devastating experience. My motivation to succeed in eye research is driven by my mission to help restore vision and cure blindness.
Favorite phrase?
"Where you stumble, there lies your treasure" – Joseph Campbell
If you didn't have to sleep, what would you do with the extra time?
I would be reading more books, writing about science and travelling the world.
What are some small things that make your day better?
Fun chats with my friends/lab mates between experiments, ticking things off my to-do-list (however small the task may be) and seeing my plants alive and healthy.
I want to be the next Gibco Cell Culture Hero
As a Gibco Cell Culture Hero you will be a part of a growing community of global PhD and postdoc researchers who promote education and drive tomorrow's breakthroughs.
Complete the form below for a chance to present your research to a global audience via webinar, share your story of success and perseverance to the world on thermofisher.com.
Must be a PhD or postdoc using cell culture to apply.
Links to content or other Internet sites should not be construed as an endorsement of the organizations, entities, views or content contained therein. The opinions and/or views expressed on social media platforms represent the thoughts of the individual and online communities, and not those necessarily of Thermo Fisher Scientific.
For Research Use Only. Not for use in diagnostic procedures.