Hillary Stires, PhD
Georgetown University Lombardi Comprehensive Cancer Center, Washington DC, USA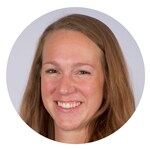 Dr. Hillary Stires is a postdoctoral fellow training in the Tumor Biology program funded through a T32 Ruth L. Kirschstein National Research Service Award at Georgetown University Lombardi Comprehensive Cancer Center under the mentorship of Dr. Rebecca Riggins. Dr. Stires received her PhD from Rutgers University in Endocrinology and Animal Biosciences and has always been interested in how steroid hormones (specifically estrogen) influence breast cancer development. In Dr. Riggins lab, Hillary's work focuses on the endocrine resistance in breast cancer. She uses cell culture models of endocrine resistance to compare resistant and parental cell lines, which are then compared with clinical data to ensure clinical relevance. At Georgetown, Hillary initiated the re-establishment of the Georgetown Postdoc Association to foster camaraderie and organize career development activities specifically geared towards postdocs. During the summer of 2019, Dr. Stires will Chair the Hormone-Dependent Cancers Gordon Research Conference. Additionally, Dr. Stires interacts with other scientists, medical oncologists, and patient advocates to improve science communication. She tweets weekly with the group #BCSM (breast cancer social media) to help provide evidence-based education and support for people affected by breast cancer.
Learn about Hillary's research
Title: Optimizing treatment options for HER2+/ ER+ breast cancer using models of endocrine resistance
Learning objectives
Understand how scientists use cell culture to model endocrine resistance in breast cancer
Decipher differences between breast cancer subtypes and treatment options
Describe changes in signaling pathways that occur during endocrine resistance
Breast cancers are classified into three main subtypes according to their receptor status: estrogen receptor-positive (ER+), human epidermal growth factor receptor 2-positive (HER2+), and triple negative. These classifications provide information about the biology of the disease and help clinicians determine which treatments to use for patients. Targeted therapy for HER2+ breast cancer, including trastuzumab and pertuzumab, and for ER+ breast cancer, including Tamoxifen and aromatase inhibitors, have drastically improved survival outcomes for patients with these disease subtypes. However, when tumors are both HER2+ and ER+, treatment decisions and outcomes are less clear. HER2+/ER+ breast cancers treated with HER2 targeted therapies do not respond as well as HER2+/ER-negative tumors. Our lab is interested in understanding the biology behind these differences in response as well as better defining treatment options for HER2+/ER+ breast cancer. We have established long-term estrogen deprived (LTED) cell models of HER2+/ER+ breast cancer utilizing phenol-red free media as a surrogate for aromatase inhibitor treatment and Fulvestrant (a selective estrogen receptor degrader) resistant cell lines using increasing doses of Fulvestrant over time. We are testing combination therapy over different time courses then measure proliferation and targets of downstream signaling including protein phosphorylation by western blot and gene transcription by qRTPCR. Ultimately, these results will help inform clinicians about the most effective treatment for patients with HER2+/ER+ breast cancer.
Watch the webinar
Get to know Hillary
Is outreach/STEM important to you? Why?
Outreach is the most important part of being a scientist in my opinion. Not only are many scientists funded by public funding, but in cancer research, our goal is to help patients. If science isn't communicated effectively, it can affect the way people perceive science. It is our job to communicate.
How do you relax after a hard day of work?
Making dinner and watching Netflix with a glass of wine or going out to dinner with friends.
What role have the mentors you've had in your passion for basic research?
I was premed when I started undergrad and joined a lab because "that's what you're supposed to do". My mentor, Carrie, invigorated a passion for basic research in answering questions and helping patients.
What's the best way to start the day?
A good work out. Because I always end up staying in lab later than I mean to, I work out in the morning. The days when I do work out tend to be more productive than those when I don't.
Who inspires you to be better?
Patient advocates. I've had the honor of virtually (and sometimes in person!) meeting breast cancer patient advocates. Their research interests and needs drive me to ensure my science is not only done well, but in a way that will ultimately help patients.
I want to be the next Gibco Cell Culture Hero
As a Gibco Cell Culture Hero you will be a part of a growing community of global PhD and postdoc researchers who promote education and drive tomorrow's breakthroughs.
Complete the form below for a chance to present your research to a global audience via webinar, share your story of success and perseverance to the world on thermofisher.com.
Must be a PhD or postdoc using cell culture to apply. Must be passionate about communicating science within your social media networks.
Links to content or other Internet sites should not be construed as an endorsement of the organizations, entities, views or content contained therein. The opinions and/or views expressed on social media platforms represent the thoughts of the individual and online communities, and not those necessarily of Thermo Fisher Scientific.
For Research Use Only. Not for use in diagnostic procedures.