Ian Johnson, PhD
Research Fellow, University of South Australia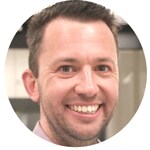 Dr. Johnson is a leading molecular cell biologist in prostate cancer, focussing his research efforts on endosome-lysosome biology in this disease with the seminal discovery of altered endosomal biogenesis in prostate cancer. These changes can stratify patient outcomes and correlate directly with metastasis and patient survival (Patent US20180119229A1). Having completed undergraduate studies in biochemistry and molecular cell biology at the University of Birmingham, England, he completed a PhD at the University of South Australia under the tutelage of Prof Doug Brooks.
Ian has a passion for microscopy, and continues his research in prostate cancer cell biology as a Research Fellow within the Mechanisms in Cell Biology and Diseases research group at UniSA. In collaboration with Dr Juan Bonifacino, Carlos Guardia (NIH) and David Gershlick (Cambridge, UK) he investigates aspects of endosome/lysosome biology in prostate cancer pathogenesis using a myriad of techniques and with a strong focus on live-cell imaging. In recognition of this important work he was awarded funding from The Prostate Cancer Foundation of Australia. In addition to answering questions about the cell biology of prostate cancer, Ian continues to work on diagnostic and prognostic biomarkers for the disease, designing sensitive and specific monoclonal antibodies that delineate stages of prostate cancer pathology, and are currently undergoing retrospective clinical trials in collaboration with Prof John O'Leary (Trinity College Dublin). Ian currently supervises a PhD candidate and is thankful that a number of undergraduate students are happy to spend their summer break in his lab so he can sit back and drink coffee while they toil away.
Learn about Ian's research
Title: The role of endosomes in prostate cancer
Learning objectives
Understand the roles of endosomes and lysosomes in prostate cancer
Explore how endosomes can influence cancer cell biology and development
Prostate cancer is the second most common form of cancer in males, affecting one in eight men by the time they reach the age of 75. The disease continues to be a major cause of morbidity and mortality in men, but a method for accurate prognosis in these patients is yet to be developed necessitating a search for new molecular markers and continued investigation of prostate cancer cell biology.
Cell lines have been used in the search for biomarkers that are suitable for prostate cancer diagnosis. Many studies have only involved single cell lines, partially characterised cell lines or were performed without non-malignant controls, potentially undermining effective biomarker discovery.
By utilising a larger panel of prostate cell lines, we discovered that cell lines transfected with HPV-18 display an aberrant pattern of protein and gene expression compared to SV40 or non-immortalised cancer cells. Through this discovery process we found that the critical process of endosomal biogenesis might be altered in prostate cancer. Microarray analysis of clinical cohorts confirmed these changes and were further delineated in fresh-frozen prostate cancer tissue by qRT-PCR.
The discrimination of prostate cancer cell lines can be further achieved using a various spectroscopic methods; utilising quantitative mass spectrometry (LC-ESI-MS/MS), non-invasive FTIR analysis and fluorescent detection of lipids in live cells by imaging with confocal microscopy we identified specific phospholipids and cholesteryl ester species that could distinguish between aggressive and non-aggressive cellular phenotypes and that could act as potential biomarkers for prostate cancer. It is possible to discriminate between cancer and non-malignant cells using a luminescent metal complex ReZolve-L1 that interacts with polar lipids. These technologies can be employed to find new candidates that have significant biomarker potential.
Watch the webinar
I want to be the next Gibco Cell Culture Hero
As a Gibco Cell Culture Hero you will be a part of a growing community of global PhD and postdoc researchers who promote education and drive tomorrow's breakthroughs.
Complete the form below for a chance to present your research to a global audience via webinar, share your story of success and perseverance to the world on thermofisher.com.
Must be a PhD or postdoc using cell culture to apply. Must be passionate about communicating science within your social media networks.
Links to content or other Internet sites should not be construed as an endorsement of the organizations, entities, views or content contained therein. The opinions and/or views expressed on social media platforms represent the thoughts of the individual and online communities, and not those necessarily of Thermo Fisher Scientific.
For Research Use Only. Not for use in diagnostic procedures.