Luke Tattersall, PhD
University of Sheffield Medical School, UK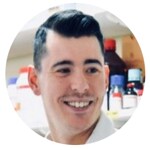 Luke Tattersall graduated with a first class honours degree in Biomedical Sciences from Sheffield Hallam University with a year's industrial placement in 2015. Since then Luke has worked on a Bone Cancer Research Trust–funded PhD scholarship in the lab of Professor Allie Gartland at the University of Sheffield Medical School Department of Oncology and Metabolism, focusing on osteosarcoma research. He submitted his PhD thesis in January 2019. During his PhD he has received 3 awards from the Bone Research Society, carried out a travelling fellowship at the University of Ferrara Italy, contributed towards a published book chapter, and was an invited speaker at the International Purine meeting in Brazil. Luke is now a post-doctoral research associate continuing research into osteosarcoma again at the University of Sheffield Medical School and has research experience with both in vitro and in vivo preclinical models of the disease.
Learn about Luke's research
Title: Osteosarcoma research
Learning objectives
An overview of osteosarcoma disease
An overview of osteosarcoma research and preclinical models
Osteosarcoma is the most common type of primary bone cancer affecting adolescents and children attributed to rapid bone growth and turnover with a peak incidence at 18 years old. It is a rare, incurable, and often fatal disease. The current osteosarcoma treatments include standard chemotherapy, limb salvage surgery or amputation. The 5-year relative survival rate is 70% for localized forms, however, metastasis is present in about one fifth to one quarter of patients at diagnosis, which then contributes to a 5-year survival rate of around 20%. The survival statistics have remained constant with no advances in treatment options for decades highlighting the need for new therapeutic options.
Watch the webinar
I want to be the next Gibco Cell Culture Hero
As a Gibco Cell Culture Hero you will be a part of a growing community of global PhD and postdoc researchers who promote education and drive tomorrow's breakthroughs.
Complete the form below for a chance to present your research to a global audience via webinar, share your story of success and perseverance to the world on thermofisher.com.
Must be a PhD or postdoc using cell culture to apply. Must be passionate about communicating science within your social media networks.
Links to content or other Internet sites should not be construed as an endorsement of the organizations, entities, views or content contained therein. The opinions and/or views expressed on social media platforms represent the thoughts of the individual and online communities, and not those necessarily of Thermo Fisher Scientific.
For Research Use Only. Not for use in diagnostic procedures.