Nathalie Heider-Hönatsch, PhD candidate
University Hospital Bonn, Germany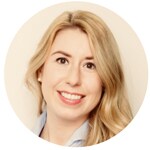 Nathalie is currently a PhD student at the Department for Oncology, Immunology and Hematology at the University Hospital Bonn in Germany.
She is working in the biomedical research laboratory under the direction of Prof. Dr. Peter Brossart. Her thesis focuses on immunotherapy in multiple myeloma.
Currently she investigates the regulation of immune cells and the expression of immune checkpoints, for example by using CRISPR/Cas9 technology and flow cytometry.
Nathalie accomplished her studies in biochemistry at the Heinrich-Heine University of Düsseldorf, Germany, in 2014. For her master thesis she went to the laboratory of Prof. Ruth J. Muschel at the University of Oxford, UK. There she studied the role of myeloid cells in liver metastasis especially by using immunohistochemistry and lentiviral transfections.
While she is very passionate about basic cancer research, equally important to her is science communication and health education.
Learn about Nathalie's research
Title: The role of immune cells and immune checkpoints in multiple myeloma
Learning objectives
Identify tumour immune microenvironment
Examine immunotherapeutic strategies for hematologic malignancies
Discuss flow cytometry to investigate immune cell regulation in multiple myeloma
Multiple myeloma is a disease of terminally differentiated plasma cells with the massive production of monoclonal immunoglobulins in the bone marrow.
Today there are many treatment modalities ongoing targeting the myeloma microenvironment, but especially immunotherapy seems to be a promising approach.
Immune checkpoints are critical components in the regulation of immune cell responses. If immune cells are activated due to the contact to an antigen, they also need to be controlled to prevent an overactive immune response. These control checkpoints are often over-expressed in cancer cells and therefore protect them from the tumour-specific immune response enabling tumour immune escape.
We investigate the role of the PD-1/PD-L1 immune checkpoint during myeloma disease progression and determine combinatorial approaches of immunotherapeutic drugs to increase myeloma cell killing efficiency.
Watch the webinar
Get to know Nathalie
Why did you choose cancer research? 
It feels like vocation- fascination of its complexity and realization of its meaning in the first lecture
What motivates you to succeed in your field? 
Creating knowledge, help to understand diseases and to win the challenge against the cancer cells
Is outreach/STEM important to you? Why?
Extremely important! I think science communication is quite important not only for younger talented people who might be interested in science or to support women in STEM (and really change circumstances to the better!), it´s about the education.
What are your top 3 favorite things to do outside of the lab?
Dancing, skiing, trying out new sports during travelling
Describe yourself with 3 words:
passionate, optimistic, responsible
If you could choose any other career what would it be? Why? 
No other career
What role have the mentors you've had in your passion for basic research?
A lot! When I chose my first oncology lecture during Masters I had a great time with my professor and he motivated ma a lot. Also during my master thesis I was very lucky with my professor who is such an inspiring woman. As I also made contrasting experience- I appreciate the responsibility, freedom and trust my current PI gives to me a lot.
On your days off, what do you do?
Sports, cooking, meeting my friends and family, brooding over scientific contexts
Why did you become a scientist?
Actually I wanted to become an astrophysicist, I was always fascinated and curious about how the world really works- either in the very big or in the very small scale.
I want to be the next Gibco Cell Culture Hero
As a Gibco Cell Culture Hero you will be a part of a growing community of global PhD and postdoc researchers who promote education and drive tomorrow's breakthroughs.
Complete the form below for a chance to present your research to a global audience via webinar, share your story of success and perseverance to the world on thermofisher.com.
Must be a PhD or postdoc using cell culture to apply. Must be passionate about communicating science within your social media networks.
Links to content or other Internet sites should not be construed as an endorsement of the organizations, entities, views or content contained therein. The opinions and/or views expressed on social media platforms represent the thoughts of the individual and online communities, and not those necessarily of Thermo Fisher Scientific.
For Research Use Only. Not for use in diagnostic procedures.