Sara Busatto, PhD candidate
University of Brescia, Brescia, Italy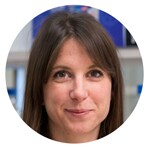 Sara Busatto is a PhD student in Prof Bergese's Colloidal Clinical Chemistry Laboratory at the University of Brescia in Italy. Currently, she is also a visiting pre-doctoral student in Prof. Wolfram's Nanomedicine and Extracellular Vesicles group at Mayo Clinic in Florida (United States). In 2015, Sara graduated from the University of Brescia in Italy with a master's degree in medical biotechnology. Her research focuses on exploring the targeting and drug delivery capacity of extracellular vesicles (EVs) in vitro and in vivo. She has several publications in the field of extracellular vesicles. Busatto's current research project involves studying the interface between EVs and biological membranes, especially focusing on the blood brain barrier. Her goal is to foster and contribute to the progress of personalized and biocompatible nanomedicine, translatable into more effective therapies for the treatment of life-threatening diseases.
Learn about Sara's research
Title: Cancer cell-derived extracellular vesicles as diagnostic and therapeutics tools
Learning objectives
Understand basic extracellular vesicle concepts: biogenesis, function and future applications
Become familiar with extracellular vesicles isolation techniques
Explore the role of extracellular vesicles for cancer research: biomarkers, biosensors, and drug delivery vehicles
Extracellular vesicles (EVs) are cell-secreted nanoparticles that play a pivotal role in intercellular communication that affects both physiological and pathological processes. Therefore, EVs have great potential for diagnostic and therapeutic applications for cancer. EVs can be isolated from cell culture media and patient-derived biological fluids, and exploited as biomarkers or delivery vehicles. In this project, the uptake of EVs in various cancer cells has been evaluated. Moreover, EV RNA profiling has been used as a biomarker of various liver cancer cell lines. Additionally, EVs isolated from cancer cells have been projected into a 2D supported lipid bilayer as the initial step to develop a first of its kind EV biosensor. Taken together, cancer cell derived EVs have great potential for improving the diagnosis and treatment of this disease.
Watch the webinar
Get to know Sara
Why did you choose cancer research? 
As a child I was in a hospital a lot due to illness and I felt like the hospital was a friendly place. Because of this experience, I developed a keen interest for medicine. As a seven-year-old, I asked for an encyclopedia about the human body. With time, my fascination grew and as an adult I think that cancer research is part of who I am.
If you could choose any other career what would it be? Why? 
Veterinarian, because I love animals.
Favorite phrase?
"You cannot hope to build a better world without improving the individuals. To that end each of us must work for his own improvement, and at the same time share a general responsibility for all humanity, our particular duty being to aid those to whom we think we can be most useful."
What's the best way to start the day?
Coffee and music.
If you could convince everyone in the world to do one thing at one point in time, what would that thing be?
Respect and take care of the environment.
What role have the mentors you've had in your passion for basic research?
I always had the fortune to be mentored and supported by charismatic scientists who truly motivated me during my early career. They were revealed to me to be fundamental, giving me motivation and faith.
I want to be the next Gibco Cell Culture Hero
As a Gibco Cell Culture Hero you will be a part of a growing community of global PhD and postdoc researchers who promote education and drive tomorrow's breakthroughs.
Complete the form below for a chance to present your research to a global audience via webinar, share your story of success and perseverance to the world on thermofisher.com.
Must be a PhD or postdoc using cell culture to apply. Must be passionate about communicating science within your social media networks.
Links to content or other Internet sites should not be construed as an endorsement of the organizations, entities, views or content contained therein. The opinions and/or views expressed on social media platforms represent the thoughts of the individual and online communities, and not those necessarily of Thermo Fisher Scientific.
For Research Use Only. Not for use in diagnostic procedures.