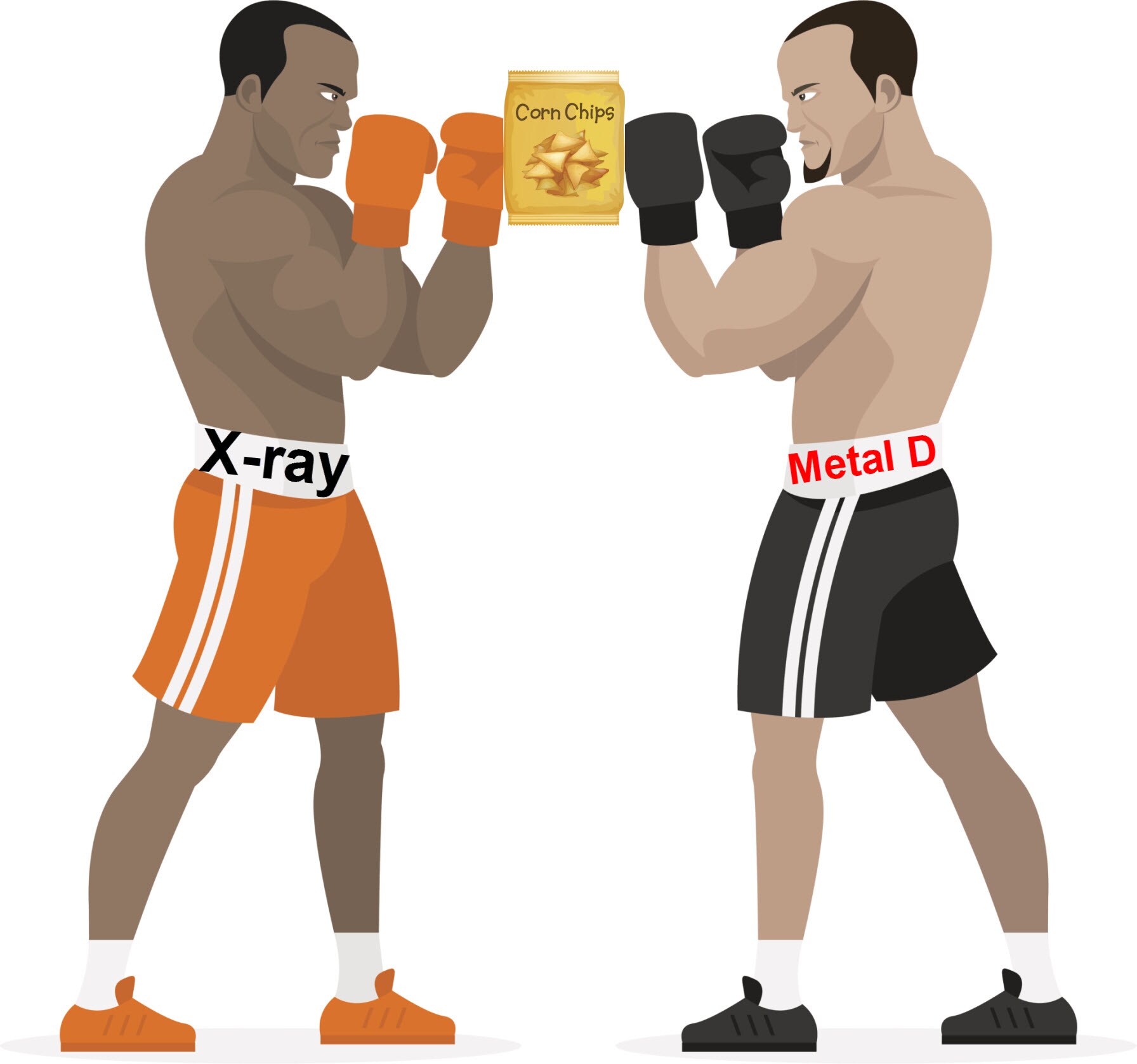 Metal detection and X-ray inspection are both a first line of defense to identify the presence of foreign contaminants in food products before they leave the processing plant.
For food quality professionals, process engineers and corporate food safety executives, choosing a detection technology is typically based on three things: the optimum detection point, overall application capability and total cost/benefit.
Engineering and software improvements continue to set new standards. This has led to some confusion regarding which technology to employ and why.To help decide between metal detection and X-ray inspection, it helps to understand how each of them works.
The Oklahoma State University, Division of Agricultural Sciences and Natural Resources' website is a good resource for understanding how metal detectors work:
Most metal detectors use a balanced, three-coil system to detect small particles of non-ferrous and stainless steel. The coils are wound on a non-metallic frame, each parallel with the other. The center coil is connected to a high frequency radio transmitter. Coils on either side of the transmitter coil are receivers. As these two coils are identical and placed the same distance from the transmitter, they receive the same signal and produce an identical output voltage. When the coils are connected in opposition, the output is cancelled, resulting in a zero value. When a particle of metal passes through the coils of a metal detector, the high frequency field is disturbed under one coil, changing the voltage by a few microvolts. The state of balance is lost and the output from the coils is no longer zero. It is this phenomenon that is used to detect metal.
Newer generation detectors take that technology to the next level – using a specially designed multi-coil instead of one transmit and two receive coils. This multi-coil detection architecture is super-sensitive and achieves signal levels considerably greater than the previous generations of detectors. Multiple transmit coils can be configured to yield a more effective magnetic field and much improved sensitivity so metal spheres up to 20% smaller in diameter can be reliably detected, and the number of false rejects is significantly decreased.
X-ray inspection systems work a bit differently. According to the Manitoba Agriculture, Food and Rural Development Department:
X-ray inspection systems are based on the density of the product and the contaminant. As an x-ray penetrates a food product, it loses some of its energy. A dense area, such as a contaminant, will reduce the energy even further. As the x-ray exits the product, it reaches a sensor. The sensor then converts the energy signal into an image of the interior of the food product. Foreign matter appears as a darker shade of grey and helps identify foreign contaminants.
In general, metal detection systems are less expensive than X-ray units and last two-to-five times longer. If your main concern is metal contamination in small, dry products, choose a metal detector. If you want to find glass, rocks, bones or plastic, or have metallic packaging, an X-ray detection and inspection system can be the best return on investment.
Small incidents can cost millions of dollars, disrupt business and can be damaging to your company's brand. How much are you willing to risk? Weigh this against the total cost of ownership for the metal detection or X-ray system including installation, training, maintenance, repairs and the cost of downtime. And, keep in mind that the best approach may be to use both. Both technologies are frequently deployed at different points in the production process to meet different detection needs. Keep your eyes on the prize: implementing the best solution to keep consumers and your brand safe.
For addition information, read the white paper: What food processors should know: metal detection vs. X-ray inspection.