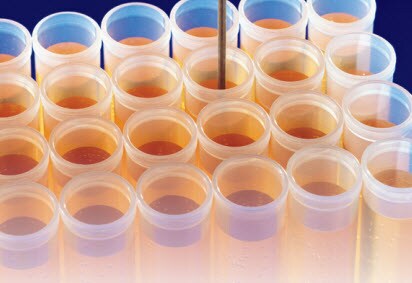 The growth in popularity and acceptance of Fourier transform infrared (FT-IR) spectrometers for use in quality assurance (QA) laboratories and on manufacturing floors is one of the major developments affecting industrial environments in recent years. FT-IR spectroscopy offers almost unlimited analytical opportunities in many areas of production and quality control. It covers a wide range of chemical applications, especially in the analysis of organic compounds. In addition to its more classical role in qualitative analysis, its use in quantitative determinations has grown due to the improvements in signal-to-noise performance coupled with the development of advanced statistical analysis algorithms. Thanks to its compact design and ruggedness, the instrumentation can be located in the analytical laboratory or near the production line. Low cost, speed, and ease of analysis make FT-IR a method of choice for many industrial applications, including the analysis of polymeric materials.
FT-IR spectrometers offer many advantages over other analysis techniques. The most important include a drastic reduction of the time needed for data acquisition, component specificity, and sensitivity. Other benefits include the internal wavelength calibration, which ensures the precision of the analysis. With constant improvement in computing power, modern spectroscopy software, and advanced chemometric methodology, FT-IR is becoming ever more prevalent in addressing a wide variety of commercial applications. From simple identifications using library comparisons to sophisticated quantitative analysis, method development, spectrometer operation, and data manipulation are both simple and powerful.
Developments in FT-IR instrumentation and dramatic changes in FT-IR sample handling techniques resulted in an extensive range of new accessories that simplify and, in many cases, eliminate tedious sample preparation. Many of these sampling techniques feature constant optical path-length, regardless of the sample volume or thickness, making reproducible quantitative analysis simple and elegant. Depending on the sampling interface, the spectrometers can be used for gas, liquid, or solid sample evaluations.
Here are some examples of how FT-IR spectrometers address the needs of QC/QA laboratories in the polymers industry:
Toluene Diisocyanate in Pre-polymer Mixtures
Toluene diisocyanate (TDI) is used in various resin blends in the manufacture of polymeric foams. The TDI concentration in the pre-polymer mixture affects the quality of the final product. Attenuated total reflectance (ATR) FT-IR spectroscopy can be used to quantitatively determine the TDI concentration in resin blends prior to polymerization to ensure product quality. Once the calibrated method is developed, analysis can be performed with a single keystroke.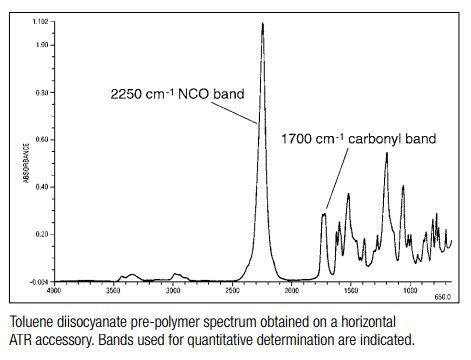 Monitoring of Fluorination Level of Polyethylene
Chemically reinforced polyethylene is used in many industrial applications. Fluorination of the polyethylene surface is one of the processes for improving its performance. The fluorination level can be conveniently monitored using an FT-IR spectrometer, offering price and performance advantages over neutron activation analysis (NAA) and electron scatter analysis (ESCA).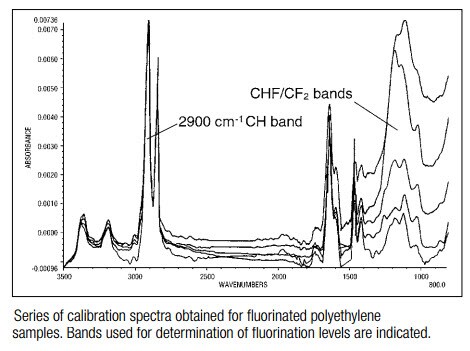 Hydroxyl Number in Glycols
Knowledge of the hydroxyl group content of glycols is important for predicting the functional characteristics of the products. The hydroxyl value relates to molecular weight, viscosity, extent of reaction, and other parameters important to and dependent on the final application. Assessment of this value can be quickly and easily done using FT-IR.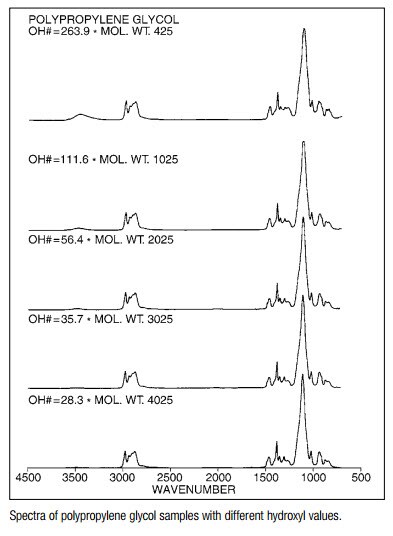 Check out the FT-IR Applications page of the FT-IR Spectroscopy Learning Center to access application notes and webinars describing how FT-IR spectroscopy can be applied across all phases of the product lifecycle including design, manufacture, and failure analysis.