The demand for plant-based meat products is skyrocketing and the global market for meat substitutes is expected to more than double to $3.5 billion by 2026. As more people turn to meat alternatives, especially in the U.S. and Europe, they want meat substitutes that mimic the sensory traits of meat including its texture, flavor, and appearance.
To produce meat alternatives at scale, the food industry uses food extruders that combine moisture, high heat, and mechanical energy to quickly produce meat substitutes from plant-based proteins. Food scientists mix protein-based powders such as soy protein concentrate and wheat gluten with water, steam, or oil and feed this mixture into a twin-screw extruder, where it is further mixed and sheared by two rotating screws. It's then heated, compressed and pushed out through a die at the end of the cylinder to create the desired fiber-like texture.
Whether it be chicken, ground beef, or sausage, different meats have different textures—and to mimic these textures, food scientists want to achieve anisotropic structures, in which the meat substitute exhibits different properties depending on the direction of the extruded fibers. There are numerous extrusion parameters, and by fine-tuning them, scientists can obtain the exact texture they desire for specific products.
As part of this process, food scientists analyze the visual appearance of meat substitute samples using a scanning electron microscope (SEM). With an SEM, researchers can confirm the effect of different ingredients and extrusion methods on the anisotropy, fibrousness and texture of the final meat substitute and then use this information to improve their production process.
Using a workflow that combines a Thermo Scientific food extruder with the Phenom XL G2 Desktop SEM, for example, food labs can quickly determine their optimal production parameters in-house. The Phenom XL G2 expedites high-resolution imaging as it requires no sample preparation and less than 60 seconds of acquisition time. Moreover, large-area imaging gives researchers a clear overview of the complete sample. With the Phenom XL G2, labs can even analyze multiple samples at the same time.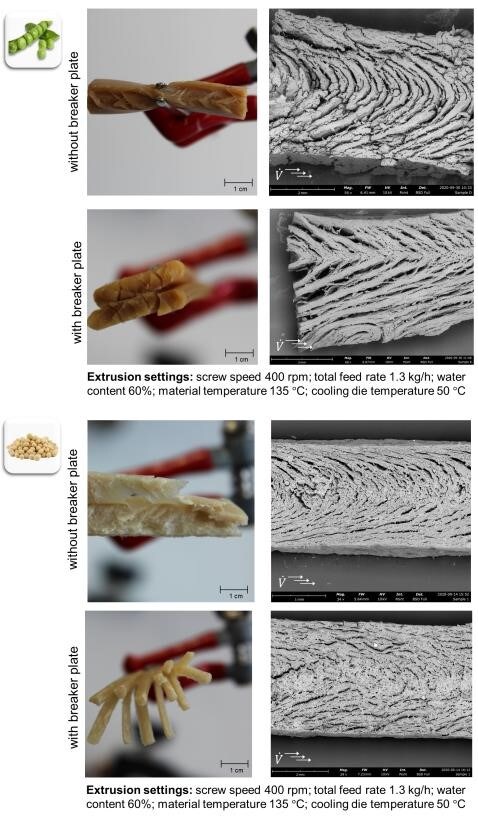 Using the Thermo Scientific Phenom XL G2 Desktop SEM, food labs can obtain high-resolution images of meat substitute samples in less than 60 seconds.
A workflow that combines the Phenom XL G2 Desktop SEM with a Thermo Scientific extruder enables food labs to quickly analyze the texture of their meatless products and then rapidly adjust the extrusion parameters to obtain the precise qualities they need for different meat alternatives. Using these tools, food manufacturers can improve their competitive advantage by bringing higher-quality meat substitutes to market faster at a time when demand for these products continues to soar.
To learn more about food extruders for meat substitutes and other food manufacturing processes, please see our application compendium: Guide to skilled food extrusion.
Register here to attend the July 15 "Advances in Food & Beverage Analysis 2021" online symposium where we're presenting on food extruders and food extrusion methods.
Rogier Miltenburg is an application engineer at Thermo Fisher Scientific.