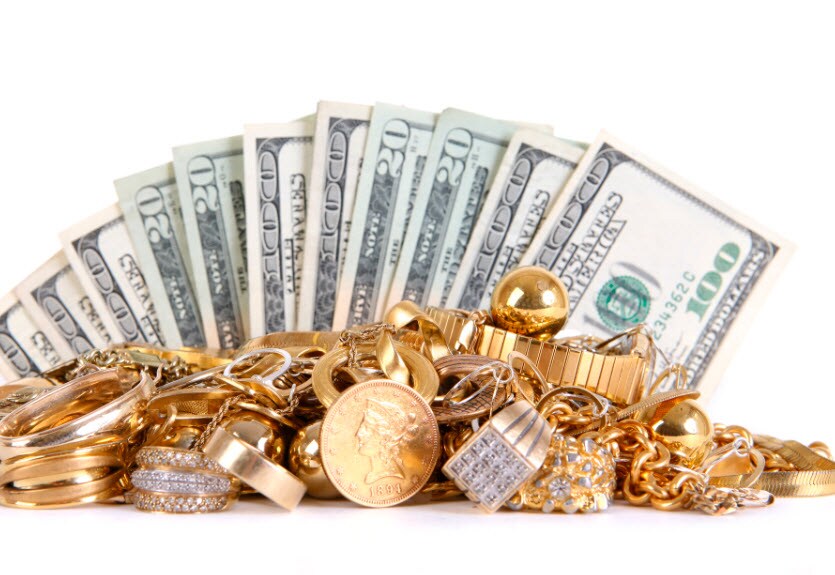 Is gold still valuable? The price of this precious metal hit an all time high in 2011 and has been fluctuating ever since, particularly during the past year. As reported in the previous blog, An Uncertain Future for Gold?, the World Gold Council's Gold Demand Trends Q2 2014 report maintains that while gold mine production actually increased to record highs in the first two quarters of 2014, mine supply may have peaked and will likely plateau in the next year or so as productivity diminishes and cost cutting opportunities run out. The report also points out that fewer consumers are selling or recycling their gold in the current pricing climate. CNN Money reports that while gold prices briefly surged in January of this year, prices once again plummeted as the dollar strengthened. Nevertheless, some experts are still expecting gold to rebound, and most will agree that while some price volatility can be expected, gold will remain a sought-after, valuable precious metal.
Most gold jewelry and decorative objects are not "pure" gold but contain alloying elements in varying percentages. The production of gold alloyed products is based on the amount of gold used in the alloy process, which determines the piece's ultimate value. The term karat or carat (K or kt) is used as a unit of purity for gold alloys. Karat purity is measured as 24 times the purity by mass:
X = 24 Mg
Mm
Where X is the karat rating of the material, Mg is the mass of pure gold or platinum in the material, and Mm is the total mass of the material. Thus, 24-Karat gold is fine (99.9% Au w/w), 18-Karat gold is 18 parts of gold (75.0% Au w/w) and 6 parts of other metals (forming an alloy), 12-Karat gold is 12 parts of gold (50.0% Au w/w) and 12 parts of other metals, and so forth.
For an example of how this calculation translates into price, consider the new Apple Watch Edition made of 18K gold and retailing at an estimated $10,000 to $17,000. One thing that makes this product interesting from a metallurgical point of view is that the watch is made from a custom gold alloy that is, as stated on the company's web site, "up to twice as hard as standard gold."  This is important because  pieces made of higher percentages of gold tend to be softer and less durable than the lower karat gold. According to Gizmodo.com, Apple Gold is made using a special process that involves blending gold powder with ceramic powder or other materials, then heating and compressing it to create a substance that's harder and more scratch resistant than regular gold.
Because gold comes in a variety of karat weights, the analysis of gold must be performed with the highest precision and accuracy; a small error in concentration determination can equate to a large amount of money. High power wavelength dispersive X-ray fluorescence (WDXRF) is one of the primary methods for quality control in gold analysis. Read the application note describing the results of precision tests conducted on gold alloys using a WDXRF instrument.