In the last few weeks, there's been a lot of excitement about micro-electron diffraction, MicroED for short, within the chemist community. This electron microscopy method takes small molecule structure determination to a whole new level. As Hosea Nelson, professor of Chemistry and Biochemistry at University of California, Los Angeles (UCLA) and co-author of a recent MicroED article, says, "Using this technique, the speed at which we can formulate potentially life-saving drugs will be greatly accelerated; it will be like going from riding a tricycle to driving a Ferrari."
A Bit of Background
For decades, scientists have been using a technique called x-ray crystallography for structural determination where X-ray beams are transmitted through a crystal, causing the beam to diffract based on its crystal lattice structure. The symmetry of the diffraction pattern and the intensity of the spots provides information on how the atoms or molecules are arranged in the crystal, enabling the scientist to determine the molecular structure.
While this technique is widely adopted, it has its limitations. The crystals have to be uniform and relatively large (~10mu), and the process of creating optimal crystals from new materials can be slow and even impossible for certain samples. Moreover, for smaller crystals, the total x-ray dose per volume increases dramatically, leading to a fast degradation under the x-ray beam, especially in organic compounds. Earlier approaches of 3D electron diffraction used step-by-step tilt methods, which led to limited success in time-to-data and electron dose reduction.
Why MicroED?
Dr. Tamir Gonen, a leader in the electron crystallography and cryo-EM field, and his team pushed the limits of the cutting-edge instrumentation by analyzing crystallized protein samples that were too small and sensitive to observe with traditional X-ray diffraction. How? By developing a new technique called MicroED, initially published in 2013. Using electrons instead of x-rays, they were able to collect diffraction information fast and with minimum dose, in turn allowing them to examine much smaller crystals than what is needed for X-ray diffraction. The progress in stage performance and sensor technology in electron microscopy enabled this research.
Since then, Gonen has further improved and optimized MicroED. Last month, researchers took this technology to the next level by applying it to small chemical crystals directly from their powder form. Gonen and his joint UCLA- and California Institute of Technology (Caltech)-based team used our Thermo Scientific Talos Arctica to determine the structure of a single nanocrystal of acetaminophen, ibuprofen and other chemicals directly from the shelf.
It only took three minutes to collect the data, allowing them to produce a high-resolution atomic structure within an impressive 30 minutes.
In another paper published almost simultaneously, a Swiss/German group led by Tim Gruene at the Paul Scherrer Institut found similar results. Like Gonen's team, they were able to determine the structure of active pharmaceutical ingredients straight from a crushed pill.
The Impact of MicroED on Science
Having the ability to solve the structure of small molecules can be applied in many fields, from oil and gas to agriculture and food to organic chemistry. Because only nanocrystals are required and big single crystals do not have to be synthesized, MicroED offers a fast track to determine the crystal structure of new materials. While it's hard to judge its impact on all areas of science, MicroED promises a number of exciting potential applications:
Pharmaceutical companies can use the method both in developing new drugs and in ensuring the potency of existing drugs.
Small molecule researchers in areas like inorganic chemistry and polymer research can quickly characterize the structures of their nano-crystalline chemical compounds.
Interested in learning more about MicroED and how it's enabling new science? Watch our Intro to MicroED presentation: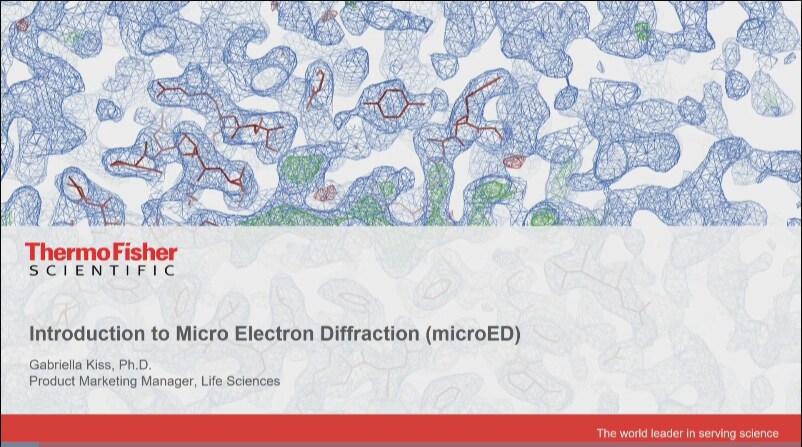 View more presentations from M&M 2018
Stay up-to-date on other industry news by following us on Twitter (@thermosciEMSpec).
Chris Budde is Senior Director of Business Segment, Electron Microscopy at Thermo Fisher Scientific. Co-authored by Bert Freitag is Principal Scientist, Electron Microscopy at Thermo Fisher Scientific.
To learn more about microED, fill out this form to speak with an expert.