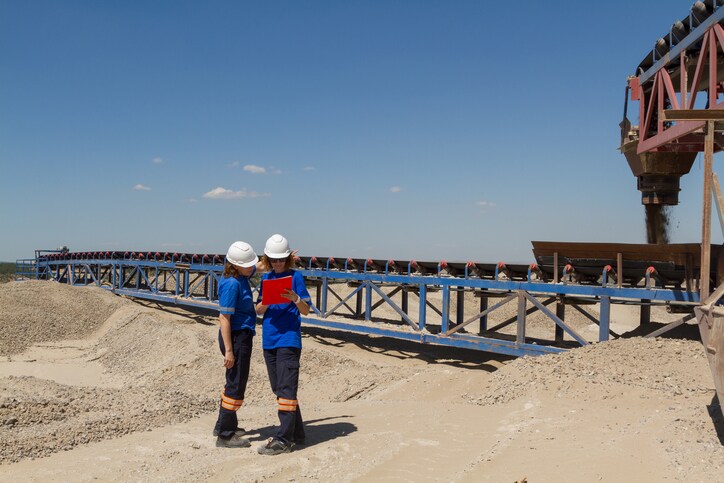 The ore, rocks, and minerals that are extracted from open pit and underground mines have to be transported to trucks, storage piles, and processing facilities. This is usually accomplished via belt conveyor systems. These belt conveyors for bulk materials have to be able to withstand harsh conditions; they are outside, constantly moving, and hold tons of material, some of which may be sharp and abrasive. Since heavy, moving equipment, carrying tons of material can be dangerous, extra care should be taken to make sure belts are moving correctly, and at the correct speed.
To help ensure safety around the bulk process equipment and belt conveyors, there are a variety of bulk material conveyor monitoring instruments, tripping systems, and switches. We discussed conveyor protection switches in a previous article (Stop The Conveyor!… by Using Conveyor Protection Switches), but this article will expand upon some of the equipment that can help prevent accidents, protect equipment and reduce shutdowns.
Industrial process monitors watch operating processes for potentially hazardous conditions and activate an alarm when they occur.
There are motion monitoring systems that sense the speed variation of rotating parts and can detect under-speed, over-speed, and zero-speed conditions of machinery and systems. This not only helps keep workers safe from materials falling off the belt, but it also helps reduce downtime and increase productivity. Under-speed switches monitor the rotational velocity of a shaft or other rotating equipment to help monitor under-speed or slippage conditions. Alarms go off to notify workers when speed drops below an adjustable set point.
Conveyor Protection Switches are used for position information, control signals, and to identify potentially hazardous situations with your process equipment. They utilize a rugged, heavy-duty design to protect your equipment, prevent accidents and reduce unscheduled shutdowns.
The belt misalignment switch is mounted on the top or bottom of conveyor stringers with its actuating arm adjusted to the outside edges of the belt. If the belt skews or misaligns, contacting the actuating arm and displacing it from its vertical position, a connection is made with one or more of the micro-switches. For example, a 10° displacement of the actuating arm activates an alarm signal to warn of a potential shutdown, allowing the operator to make adjustments and realign the belt. A 20° displacement will activate a signal to shut down the process in order to prevent or minimize damage to the belt.
A safety pull cable is attached to the actuating arm of the switch and terminated at fixed mounts at either end of a conveyor. Force applied to the pull cable at any position causes the actuating arm to move into a tripped-locked position and activates an alarm from one DPDT or two SPDT micro-switches, alerting equipment circuits of the stop condition. This will stay locked until manually reset by the reset lever.
Most mining equipment is built tough and can withstand harsh environments, but sometimes pieces of equipment can break off and land in the material being processed. Mining operators have found bucket teeth, manganese steel mantles, bore crowns, bar scrap, chains and tools in their material on the conveyor. However, those pieces of metal – which are referred to as tramp metal – can damage expensive crushers, conveyors and other process equipment – and if they cause machinery to not work properly, workers could be injured. There are tramp metal detectors that are designed for belt conveyors moving coal, iron pellets, minerals, aggregates and other bulk materials that detect all types of metallic scrap, even when it's buried in wet conductive material.
However, one of the most important ways to keep workers safe is training. Make sure your staff are well-trained by your equipment manufacturer so they know how to run and troubleshoot the machinery in a safe manner, and know how to respond to an alarm. If certification is required, make sure anyone operating the equipment has up-to-date certifications, and that several people are certified just in case one person is offsite. Bulk material handling systems utilize sophisticated, precision instruments to help keep workers safe. To keep the equipment operating safely and your workers out of danger, we recommend that you only use original manufacturers certified parts, preferably installed by the manufacturer. It will be an investment in peace of mind.