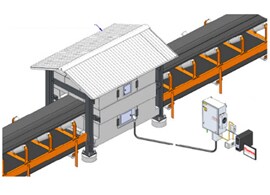 Measuring and managing raw material quality in a cement or coal process can be challenging. Raw materials in the cement manufacturing process must be carefully monitored and controlled to ensure the quality and conformity of the final product, concrete. Variances can result in faulty concrete and potentially dangerous and expensive construction issues such as building and bridge failures. Likewise, coal mining yields products of variable composition and quality that must be accurately sorted, separated, and blended. In both industries, online analysis systems based on Prompt Gamma Neutron Activation Analysis (PGNAA) and Pulsed Fast Thermal Neutron Activation (PFTNA) technology help coal and cement producers proactively address process variations and ensure more consistent raw material composition and quality.
What is PGNAA and PFTNA?
PGNAA/PFTNA works by bombarding sample material with neutrons. PGNAA online analyzers require a source of neutrons for their analysis technique, either the radio-isotope Californium-252, or neutrons can be electrically generated with a specialized compact linear accelerator called a Neutron Generator.
Neutrons interact with elements in the sample, which emit secondary prompt gamma rays. These gamma rays are collected and measured with a high resolution gamma ray spectrometer. The gamma ray spectrum is analyzed to determine information about specific elements.
PGNAA/PFTNA is a comprehensive analysis technique
PGNAA and PFTNA online analyzers are situated directly on the conveyor belt and penetrate the entire raw material cross-section, providing minute-by-minute, uniform measurement of the entire material stream, not just a sample. Surface analysis technologies such as X-ray fluorescence (XRF), X-ray diffraction (XRD), and other spectral analysis technologies measure limited depths and surface areas that may not be representative of the entire amount of material on the belt. With PGNAA, sample errors are reduced, and the high-frequency of analysis helps reduce variation in material quality.
PGNAA/PFTNA improves stockpile and raw mix control
PGNAA and PFTNA online analyzers help cement producers save energy costs and reduce raw material waste. A stable cement manufacturing process with the correct chemistry takes much less energy to run than a highly variable process. The more variability in the raw materials, the more fuel the producer must use to get the materials to "react chemically" in the kiln to make cement. An online analyzer helps avoid waste by quickly and thoroughly determining raw material composition and quality. PGNAA and PFTNA online analyzers are used by coal-fired power plants and coal producers to help proactively address process variations and ensure more consistent coal blends and improved fuel quality.
To learn more, visit the PGNAA/PFTNA Technology page.
We've written up the 15 most frequently asked questions about online cement analysis technology and provided the answers on one page.  You can view it here: Online Material Analysis for Cement Production FAQs
Update: Visit the Cement Production center on our website, with free resources to help you optimize your cement making process.