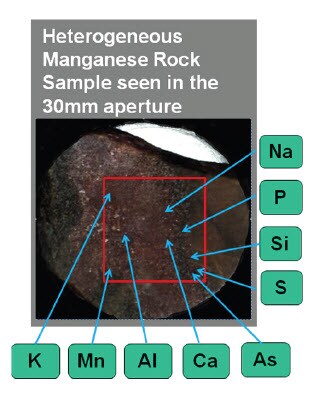 Portable x-ray fluorescence (XRF) analyzers have many applications in mining and geology. These instruments, based on Energy Dispersive XRF (EDXRF) technology, offer the advantages of speed and real-time data in the field. Wavelength Dispersive XRF (WDXRF) is the standard test method for analytical laboratories serving the mining industry, and these high powered instruments offer unique advantages of their own:
High analytical accuracy.
Sample variety: loose powder, pressed pellets, fused disks, core samples, rock samples, and liquids.
Full analytical capability: Light elements and rare earths, from Beryllium (Be) to Uranium (U).
Mapping/Small Spot functionality: Qualifies or quantifies core and rock sample features in-situ.
Mineral Identification: Estimated phases.
Surface Profiling: Analysis of rock or core samples.
Standard-less software: Handles a wide variety of samples.
Geochemical applications offer interesting analytical challenges in the sense that these materials can represent wide concentration ranges and varied sample matrices and sizes. The analytical performance of WDXRF instruments has advanced in order to cope with these challenges. WDXRF is now an excellent technique in multi-element determination in geochemical mapping. While the traditional WDXRF technique has always demanded homogeneous samples, the latest developments in mapping and small spot functionality permit analysis of areas down to 0.5mm as well as mapping of a selected region of a sample. These features open up the WDXRF technique to heterogeneous samples where segregations, defects or inclusions can now be determined. Coupling small spot capabilities with standard-less analysis permits quantification of up to 79 elements on the periodic table on selected points of the sample. Mapping a geological sample allows you to define and locate grain boundaries and crystalline structures that are not visible to the naked eye, and construct detailed composite maps of elemental distribution within a sample. These 2D images can be viewed as individual element distributions or overlaid to give a more comprehensive correlation of the elements as a group. The 3D images are single element display and can be rotated for a full 360 degree visualization or even a birds-eye view. While most maps are collected as intensity only images, empirical calibrations can also be used to fully quantify the result. Small spot analysis is an important development that allows you to focus on part of the map. A small spot is a selection of one or more individual points on a sample surface, each one producing a singular analysis result, whereas mapping is the joining of these individual points into a unified pattern to produce a 2- or 3-dimensional presentation along with intensity/concentration results for the selected area. The first step in small spot analysis is to image the sample surface using XRF. Areas of interest can be selected from this image. To analyze these areas of interest, you would select one of a number of "shapes" and enlarge or contract it to a size which best contains the area of interest. The sample is excited through the use of a primary X-ray beam. The secondary X-rays emitted are collimated through an aperture which allows only the 0.5mm area of interest excitation to continue on through the beam path to the detector. These techniques are especially important to mining because geological samples offer interesting and informative mapping images that provide basic information about the chemical reactions which must have occurred during rock formation. See examples of differences among elemental segregations throughout the rock  body obtained through mapping and small spot analysis using a WDXRF instrument.